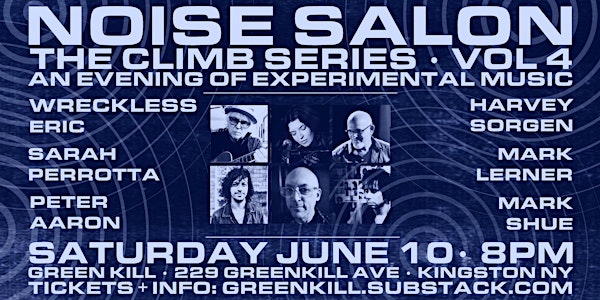 Noise Salon: The Climb Series, Vol 4, June 10, 8 PM, Green Kill Sessions
Noise Salon: Climb Series, Vol. 4 will take place at Green Kill on Friday, June 10 at 8pm.
Date and time
Saturday, June 10 · 5 - 6pm PDT
Refund Policy
Contact the organizer to request a refund.
Eventbrite's fee is nonrefundable.
About this event
he Noise Salon: The Climb Series, Vol. 4 will take place at Green Kill on June 10 at 8 pm and will feature Wreckless Eric (synthesizer, oscillator), Harvey Sorgen (drums). Sarah Perrotta (keyboard), Mark Lerner (bass), Mark Shue and Peter Aaron (guitars).Scott Kent will be the sound engineer. Read more about this event below.
This event is a livestream production open to a live audience of 30. The livestream is broadcast on the YouTube Channel. 10 dollars for live audience tickts. 5 dollars for livestream tickets.
Please read the following information to insure your access to the livestream link and ticket reservation.
1. Please click "Tickets" button to access livestream or live audience ticket.
2. Select "Livestream Ticket" or "Live Audience Ticket". Audience members attending in person must be masked! Please choose the right ticket. A Livestream Ticket provides you with a link to the Green Kill Sessions livestream which can be accessed remotely on your own equipment.
A Live Audience Ticket puts you on a list for a reserved set at the event, and also provides you a livestream link. If you are coming to the event, please arrive 15 minutes before starting time. There are no ticket sales at the door. All tickets must be reserved on Eventbrite.
3. Enter the number of tickets you would like to buy.
4. Enter your credit card information: Name, Number, Expiration Date, and CVV code. Double-check the info you entered. Make sure it's correct. It's easy to slip up!
5. Select "Place Order". You will then have access to the page which has a watch event link. Click on that link to see the YouTube event address. An email will also be sent to the email address you provided with the link.
Shortly before the event, you will receive a reminder link.
Please be advised that tickets are not transferable. If you wish to buy a ticket for someone else, you must use their email when buying a ticket for an event.
NOISE SALON: THE CLIMB SERIES, VOL. 4
Noise Salon: The Climb Series is a new monthly curated improvised music event at Green Kill in Kingston hosted by underground musicians Mark Shue and Peter Aaron. A revived version of the Noise Salon series that Shue originated in Brooklyn in 2012, the salon is designed to bring musicians together from various communities and walks of life in order to perform a spontaneous improvisational collaborative performance as an ensemble. The exercise will explore what happens when a group is put together to create a piece of music on the spot.
The Noise Salon: The Climb Series, Vol. 4 event will take place at Green Kill on June 10 at 8pm and will feature Wreckless Eric, Harvey Sorgen, Sarah Perrotta, Mark Lerner, Mark Shue, and Peter Aaron. Green Kill is located at 229 Greenkill Ave., Kingston, NY, 12401. Information and tickets (tickets are $10 each; venue seating is limited to 30 audience members) are available at the links below. The performance will be livestreamed on YouTube at the Green Kill Sessions channel, where there is a link to donate to the musicians: https://www.youtube.com/@greenkillsessions8572 .
Noise Salon: The Climb Series, Vol. 4 lineup for June 10 
Wreckless Eric (synthesizer, oscillator) 
Identified with the punk/new wave movement of the 1970s, English-born singer-songwriter Wreckless Eric is best known for his 1977 UK hit "Whole Wide World." A restless, self-challenging experimentalist, he likes to do crazy stuff. So we invited him to do the Noise Salon. 
Harvey Sorgen (drums) 
Endlessly inventive drummer, percussionist, educator, and composer Harvey Sorgen has played with Hot Tuna, Ahmad Jamal, Paul Simon, Dewey Redman, Jack DeJohnette, Joe McPhee, Julius Hemphill, Carlos Santana, Bill Frisell, Marilyn Crispell, Bob Weir, and many others.  
Sarah Perrotta (keyboard)
A leading figure of the Hudson Valley music scene, singer-songwriter Sarah Perrotta was the front woman of the indie rock band Outloud Dreamer and has released three solo albums. The most recent, 2021's Blue to Gold, was warmly received in Europe, where she toured in 2022. 
Mark Lerner (bass) 
Bassist, composer, and designer Mark Lerner has been a member of the band Life in a Blender since 1992. His own projects include Rosine, Sugar Fight, and Flat Old World. He's also played with John Linnell of They Might Be Giants, Holly Miranda, Ambrosia Parsley, and others. 
Mark Shue (guitar) 
Mark Shue is the bassist of indie rock band Guided By Voices and the guitarist and leader of New York bands Beech Creeps and Chomper. He is creator of the Noise Salon series, which he now co-curates with Peter Aaron. 
Peter Aaron (guitar) 
Peter Aaron has been the singer and guitarist of New York blues punk band the Chrome Cranks and is currently the front man of the Stabbing Jabs. He has also played in Peter Aaron/Brian Chase Duo, Young Skulls, the Heartless Hearts, and Avondale Airforce. 
The next Noise Salon event at Green Kill will take place on July 14. Lineups and future dates TBA. For further information, see links below: 
Scott Kent, Sound Engineer
Scott Kent originally came to Woodstock in 1988 to work for Bearsville Studios. He taught guitar at Abrams Music and the Kingston Conservatory of Music before moving to San Diego in 1993. He taught Band and Orchestra for San Diego Unified School District for 18 years and returned to Mt. Tremper in 2016. He holds a Bachelor's degree in Professional Music from Berklee College of Music and a Master's degree in Jazz Studies from San Diego State University.
About the organizer
Website: https://greenkill.org/organizer/david-schell-2/