Description
Ticket Information
You must have a ticket to attend the event. Ticket includes 1 No Crumbs Left cookbook and signing.

6:00 pm | Doors Open, Nibbles and Bits
6:45 pm | Talk Begins, Q&A and more
7:30 pm | Signing
Let's Go!
Join Teri Turner, Whole30 endorsed cookbook author and counder of @nocrumbsleft and NoCrumbsLeft.net for the launch of her new cook book: No Crumbs Left: Whole30 Endorsed, Recipes for Everyday Food Made Marvelous.
Teri will discuss No Crumbs Left & host a talk with Ashley McCrary of @healthylittlepeach at the Loveless Cafe. After a lively talk and Q&A, you'll receive a personalized book, included in the ticket price, along with an opportunity to take a photo together. Feel free to bring a previously purchased book to the event for Teri to sign. If you don't need the book that comes with your ticket, Teri has offered to pay it forward to a Crumble who may be unable to afford the cookbook.
While this event includes the cost of a book, think of it as the price for an evening with your favorite foodie friends. Don't miss great photo opportunities throughout the event.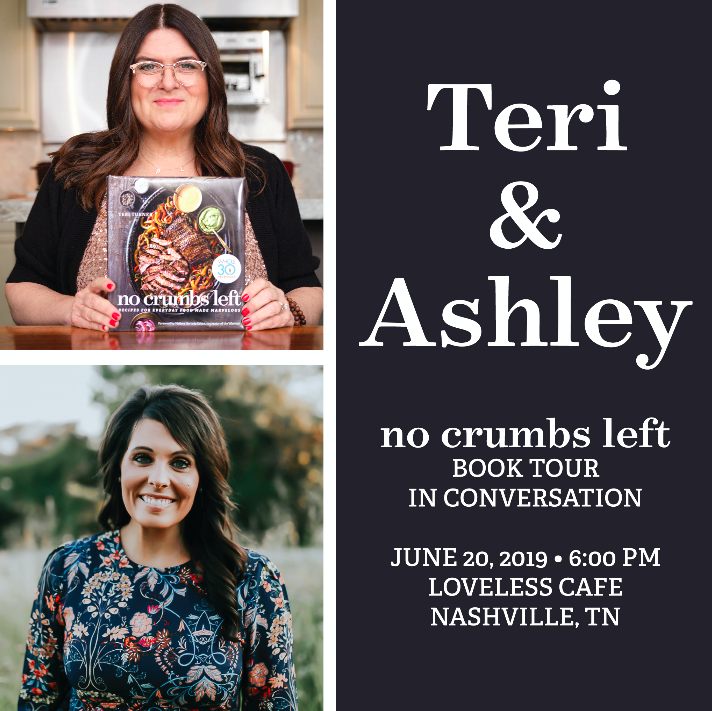 Location Details
This event is being held in the Loveless Barn behind Loveless Cafe.
Parking
For parking, guests should pull into the Loveless Cafe parking lot. Make a left once you reach the traffic circle in front of the barn. Please park in our gravel lot.

Ticket Add-ons
Add on a small pitcher or a set of 3 mini prep bowls to your general admission ticket purchase! Great for your kitchen or as gifts. These are only available now with ticket purchase. Not available in store.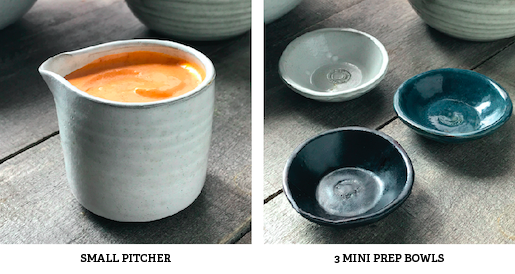 Sponsors
This event is sponsored by our incredible partners at Spindrift, Icelandic Provisions, Osso Good, Lucini Italia and Tessemae's.

Presented by Loveless Cafe.

About No Crumbs Left: Whole30 Endorsed, Recipes for Everyday Food Made Marvelous
As millions of people know, one of the toughest things about completing the Whole30 is figuring out what to eat next, the other 335 days of the year. Teri Turner, creator of No Crumbs Left, has healthful and great tasting answers. Food is Teri's love language, and her approach to getting people into the kitchen, rolling up their sleeves, and cooking is contagious. "Don't be afraid to fail: it's just food," is one of her mantras. Teri's passion is evident on every page of her first cookbook, as she leads readers through a discovery of new flavors and spice combinations and teaches people to trust their cooking instincts. Teri's recipes, most of which are gluten-free, grain-free, dairy-free, and Whole30 compliant, are what makes No Crumbs Left so unique. Simple and incredibly delicious dishes such as Pistachio Pesto Chicken Breast, Shrimp Pad Thai, and Spicy Pepperoncini Beef are on the dinner table quickly. The impossibly easy Sugar Snap Pea Salad features two of Teri's signature Magic Elixirs, Green Goddess Dressing and Smoky Pepitas, which are both made in advance and kept on hand to elevate countless meals. Her signature Marinated Red Onions, 999 Island Dressing, Gomasio, and Spicy Almond Sauce are true secret weapons. The Family chapter features the special recipes her own children grew up with and evoke home, love, and motherhood. Teri considers this book a love letter to her mother, and woven throughout are tips and favorite quotes to bring you right into her kitchen, where there is always an extra seat at the table.

About Teri Turner
Teri Turner is the creator of the popular food and lifestyle blog nocrumbsleft. Formerly an event producer, she has always been committed to bringing magic into the kitchen when cooking for her family and friends. As a brand innovator, influencer, and trendsetter, Teri provides fresh ideas for her fans and clients. Her Whole30 takeovers and global meet-ups celebrating her foodie adventures and life experiences, as well as her weekly podcast, nocrumbsleft Table Talks, featuring Teri one-on-one with a guest, captivate her followers. The mother of?two grown children, Patrick and Lucy, she considers motherhood her most valuable role. A native Chicagoan, Teri shares her life with partner Roy,?dividing their time between Chicago and Northern California.
Follow along at: @nocrumbsleft and NoCrumbsLeft.net