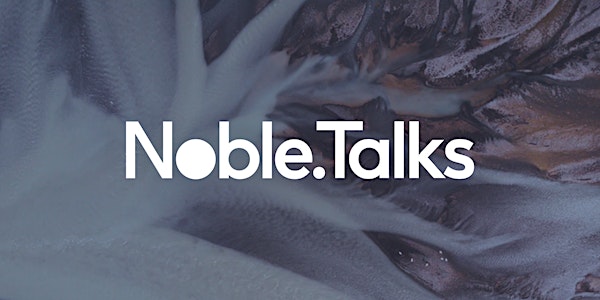 NobleTalks: Applications of Science-Based AI in Geophysics
Hosted by Noble.AI, NobleTalks is a quarterly series of discussions exploring the emerging impacts of AI on scientific discovery.
When and where
Location
Noble.AI 8 California Street Suite 400 San Francisco, CA 94111
About this event
AI and Geophysics experts come together for a Panel Discussion during the 2019 Fall AGU Meeting in San Francisco to discuss leading research and emerging trends.
Prof. Tarje Nissen-Meyer
Associate Professor of Geophysics, University of Oxford
Tarje Nissen-Meyer studied Physics and Geophysics at the University of Munich, Germany, and obtained a PhD in Geosciences from Princeton University in 2007. He then conducted postdoctoral research at Caltech and Princeton and became a senior research scientist at ETH Zurich, Switzerland. Since 2013 he has been Associate Professor at the University of Oxford, and will be spending a sabbatical as Cox Visiting Professor at Stanford in 2020.
Tarje's research interests are primarily rooted in seismology, but span many scales and disciplines. He developed several open-source numerical methods of wave propagation which are widely used by the research community as well as for teaching, in industry and government. They also form the basis for modeling at the NASA InSight project's Marsquake Service and for seismic data analysis at IRIS data management centre. He works on the structure and dynamics of the deep Earth, seismic tomography and inverse problems, earthquake physics, ocean-noise generation , nuclear test monitoring, seismic hazard analysis and wave physics in complex media, elephant vibrations, machine learning, high-performance as well as green computing.
He enjoys engaging with the general public, media, government and industry, having delivered lectures at TEDWomen, primary schools, government agencies, and hedge fund corporations. He most enjoys time with his children, playing guitar, live music, hiking, hockey, skiing and soccer.

Prof. Anya M. Reading
Professor of Geophysics, University of Tasmania
Anya Reading studied astrophysics and geophysics for her undergraduate/Honours degrees at the University of Edinburgh in Scotland. She quickly adopted computational techniques as part of the toolbox that she carries through her scientific research life. A PhD from the University of Leeds, researching earthquakes at the plate boundary beneath New Zealand, and a mixed technical/research role with British Antarctic Survey added remote area data collection to that toolbox.
Anya Reading moved to Australia in 2000 to take up a research fellowship at ANU, moving to UTAS in 2007. She leads research which pioneers recording geophysical data in remote or challenging locations such as Antarctica, outback Australia and the Bass Strait Islands. This adventuring spirit also extends to exploring and extending the ways that we can use computers to learn from data, especially applications of machine learning in to spatial and environmental research. She is currently Professor of Geophysics in the Physics discipline at UTAS.
An advocate of STEM subjects in the public eye, she also contributes to national and international research development, for example, through progressing research infrastructure for Australia and Antarctica, and policy development activities for the US Natural Science Foundation, and the Scientific Committee on Antarctic Research.

Prof. Malcolm Sambridge
Professor of Seismology and Mathematical Geophysics, Australian National University
Professor Malcolm Sambridge has made lasting fundamental contributions to the understanding of the Earth and its internal processes through new mathematical approaches to analysing complex geophysical datasets. His robust approaches to modelling diverse observational data – including statistically meaningful estimates of uncertainty – has had wide-ranging impact in geoscientific research. Malcolm's work has changed the way in which we analyse seismic waves for the structure of the Earth's interior, model landscape evolution, understand populations of mineral ages from isotopic microanalysis, and interpret infrared absorption spectra associated with hydrous crystal defects in silicate minerals.

Dr. Matthew C. Levy
Founder & CEO of Noble.AI
Dr. Matthew C. Levy is a computational scientist working at the intersection of physics and artificial intelligence. He is widely-recognized for creating theories of how the world's most powerful lasers interact with dense matter, with applications to clean energy production through laser fusion and fundamental high-field physics. Dr. Levy is founder and CEO of Noble.AI and holds two patents pending covering physics-inspired approaches to AI. Dr. Levy was the first American physicist Newton Fellow in the Royal Society of the United Kingdom. Since 2015 he has been Visiting Scholar at Stanford University. He is Junior Research Fellow of Wolfson College in the University of Oxford and Founder of Noble Artificial Intelligence.
Transportation
If you are attending the AGU, use Lyft code NOBLETALKS19 for courtesy transportation between the Moscone Center and Noble HQ.
Partners
We gratefully acknowledge support from the Royal Society, UK (royalsociety.org).
About Royal Society:
The Society's fundamental purpose, reflected in its founding Charters of the 1660s, is to recognise, promote, and support excellence in science and to encourage the development and use of science for the benefit of humanity.
The Society has played a part in some of the most fundamental, significant, and life-changing discoveries in scientific history and Royal Society scientists continue to make outstanding contributions to science in many research areas.
About Noble.AI
Noble.AI is a software company building AI tools that lower the cost of enterprise R&D. We launched the first SaaS platform that is purpose-built for science, by using advanced AI algorithms which combine scientific laws and deep learning to achieve an unprecedented understanding of science and the physical world. R&D professionals are already leveraging Noble.AI to achieve more across data integration, knowledge management, and invention.
Noble.AI is headquartered in San Francisco, California and supported by more than $8.5MM in venture funding. The leadership team has held research affiliations with institutions like Oxford and Stanford, and has nearly 35 combined years of experience delivering best-in-class digital solutions for Fortune 500 companies.