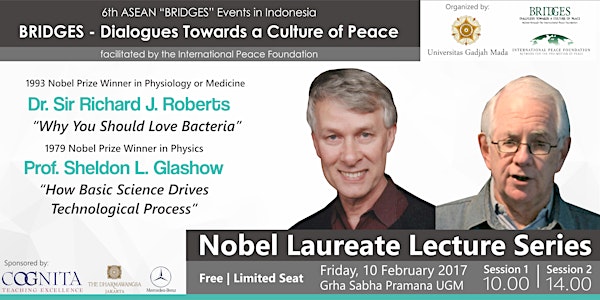 Nobel Laureate Lecture Series 6th ASEAN "Bridges" Events in Indonesia Bridges – Dialogues Towards a Culture of Peace Facilitated by the International Peace Foundation
When and where
Location
Grha Sabha Pramana UGM Kec. Depok, Jogja 55281 Indonesia
Description
About Nobel Laurates Lecture Series UGM
We are delighted to inform you that Universitas Gadjah Mada in collaboration with International Peace Foundation is organizing the Nobel Laureates Lecture Series in Yogyakarta as part of the 6th ASEAN BRIDGES Events in Indonesia - Dialogues Toward a Culture of Peace. Within this event, Universitas Gadjah Mada attempts to establish long-term relationships through the Nobel Laureates by enhancing science, technology and education as a basis for peace and development also to lead a better cooperation for the advancement of peace, freedom and security in Indonesia.
This series of lectures will be represented by the honorable 1993 Nobel Prize Winner in Physiology or Medicine, Dr. Sir Richard J. Roberts entitled 'Why You Should Love Bacteria' and 1979 Nobel Prize Winner in Physics, Prof. Sheldon L. Glashow entitled 'How Basic Science Drives Technological Process.' Having considered the importance of this public lecture, we would like to cordially invite you to participate in this event.
Important Notes:
# The event is OPEN and FREE for all individuals of higher education institutions / universities, research and other relevant institutions who are actively involved and interested in the topics of the lectures as it would be a great opportunity to broaden network and knowledge in the area of expertise.
# Participants must possess a good level of English since the lecture will be conducted in English.
# Prior registration is mandatory. Only participants receiving positive email confirmation from Eventbrite will be accepted into the event.
---
General Rundown

---
Contact Person
I Made Andi Arsana, Ph.D
Kepala Sub Direktorat Urusan Internasional
Alamat: Direktorat Kemitraan, Alumni dan Urusan Internasional, Gedung Utama UGM, lantai 2, Sayap Selatan Bulaksumur, Yogyakarta 55281 – INDONESIA
Email: head-oia@ugm.ac.id
Tel.: +62274 563974 /+62274 6491833