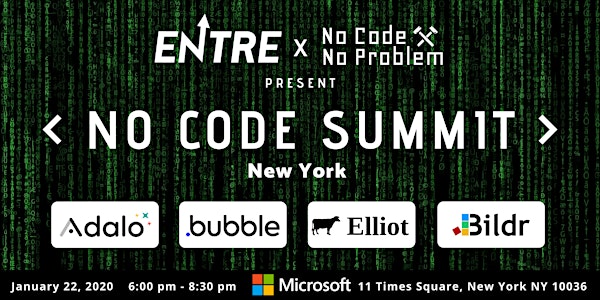 No Code Summit
Entre is hosting a special event geared towards the growing community of entrepreneurs, artists, creators, innovators in the NYC area. Entre & No Code No Problem are hosting the very first No Code Summit in the NYC area. This event is taking place at Microsoft Eleven Times Square, in the heart of NYC. The No Code Summit brings people together to openly discuss and share ideas on how no-code tools can help you improve or build your business! We welcome entrepreneurs and builders of all types, start-ups of all sizes, industries, and stages to join us in finding the inspiration, resources, and friends that will make them successful. Use the No Code Summit as a platform to learn and grow through the rapid deployment of no-code tools within your existing business or creating an MVP to test market validation! We look forward to assisting you on your journey! Event Agenda: 6:00 pm to 6:30 pm – Registration & Networking 6:30 pm to 8:00 pm – Live Demos/Presentations + Q&A 8:00 pm to 8:30 pm – Networking Event Location: Microsoft – 11 Times Square, New York NY 10036 Afterparty at HighBar: 346 W 40th St, New York, NY 10018 Featured No-Code Tools & Companies: Adalo Adalo makes creating apps as easy as putting together a slide deck. Turn your idea into a real app — without writing a single line of code! Best part of all, you can publish your apps to the Apple App Store, Google Play, and your own website. Check out a 2 minute overview of Adalo here! Twitter: @AdaloHQ Instagram: @AdaloHQ Bubble Bubble is a visual programming platform that empowers our users to build web application without writing a line of code. Applications built on Bubble can range from simple prototypes to complex marketplaces and platforms, completely replacing the programming languages and frameworks traditionally used for web development . Bubble's powerful point-and-click editor gives users the complete power and ability to design fully customizable applications and workflows, handling the infrastructure, DevOps, and scaling automatically. Check us out at Bubble.io Twitter: @bubble_group Elliot Elliot is a no-code eCommerce platform that lets you focus on scaling your brand and audience, as we allow you to instantly sell & ship to 130+ countries, no credit card required. Find out more at elliot.store Twitter: @hello_iamelliot Instagram: @helloiamelliot Bildr Bildr is a Design + Development platform that provides entrepreneurs and teams with a new way to create SaaS products. Bildr was built using Bildr. It is the first visual programming tool created with no-code for non-coders. Eliminate the design-to-dev handoff with features like Collaboration, Live Preview and Resonance (real-time updates). It's fully extensible where needed yet comes out of the box with everything you need to design, build and launch. No code. No compromises. Check out Bildr at- bildr.com Twitter: @bildrHQ
When and where
Location
Microsoft 11 Times Square New York, NY 10036
Refund Policy
Contact the organizer to request a refund.
Eventbrite's fee is nonrefundable.
About this event
Entre & No Code No Problem are hosting the very first No Code Summit in the NYC area. This event is taking place at Microsoft Eleven Times Square, in the heart of NYC.
The No Code Summit brings people together to openly discuss and share ideas on how no-code tools can help you improve or build your business! We welcome entrepreneurs and builders of all types, start-ups of all sizes, industries, and stages to join us in finding the inspiration, resources, and friends that will make them successful.
Use the No Code Summit as a platform to learn and grow through the rapid deployment of no-code tools within your existing business or creating an MVP to test market validation! We look forward to assisting you on your journey!
Event Agenda:
6:00 pm to 6:30 pm - Registration & Networking
6:30 pm to 8:00 pm – Live Demos/Presentations + Q&A
8:00 pm to 8:30 pm – Networking
Event Location: Microsoft - 11 Times Square, New York NY 10036
Afterparty at HighBar: 346 W 40th St, New York, NY 10018
Featured No-Code Tools & Companies:
Adalo
Adalo makes creating apps as easy as putting together a slide deck. Turn your idea into a real app — without writing a single line of code! Best part of all, you can publish your apps to the Apple App Store, Google Play, and your own website. Check out a 2 minute overview of Adalo here!
Twitter: @AdaloHQ
Instagram: @AdaloHQ
Bubble
Bubble is a visual programming platform that empowers our users to build web application without writing a line of code. Applications built on Bubble can range from simple prototypes to complex marketplaces and platforms, completely replacing the programming languages and frameworks traditionally used for web development . Bubble's powerful point-and-click editor gives users the complete power and ability to design fully customizable applications and workflows, handling the infrastructure, DevOps, and scaling automatically. Check us out at Bubble.io
Twitter: @bubble_group
Elliot
Elliot is a no-code eCommerce platform that lets you focus on scaling your brand and audience, as we allow you to instantly sell & ship to 130+ countries, no credit card required. Find out more at elliot.store
Twitter: @hello_iamelliot
Instagram: @helloiamelliot
Bildr
Bildr is a Design + Development platform that provides entrepreneurs and teams with a new way to create SaaS products. Bildr was built using Bildr. It is the first visual programming tool created with no-code for non-coders. Eliminate the design-to-dev handoff with features like Collaboration, Live Preview and Resonance (real-time updates). It's fully extensible where needed yet comes out of the box with everything you need to design, build and launch. No code. No compromises. Check out Bildr at- bildr.com
Twitter: @bildrHQ