Description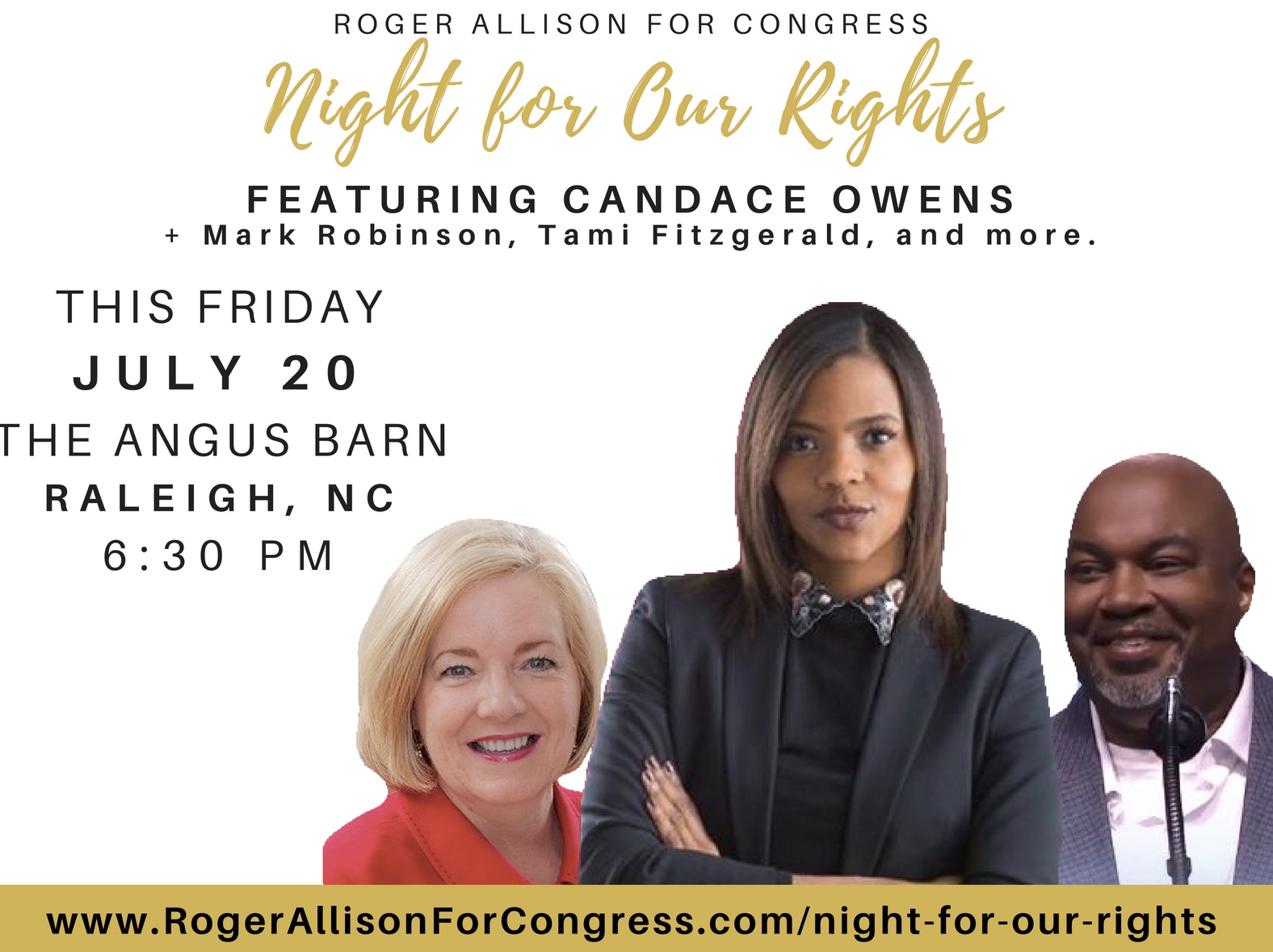 Be apart of a night you will never forget. Night For Our Rights is a semi-formal dinner, focused on honoring our God-given rights, provided by our Constitution. Hundreds of dedicated, Constitutional, supporters and activists will hear from Candace Owens, Mark Robinson, and Tami Fitzgerald.
The event will also feature Valerie Johnson, Vice Chairwoman of The Fredrick Douglas Foundation, and Ken Fontenot, candidate for NC House.
Food and alcohol provided by The Angus Barn.
Security will be present. ID may be asked to show.
DETAILS
July 20th, 2018 at 6:30 PM
*5 PM reception (by invite only, for VIP attendees and sponsors)
The Pavilion at the Angus Barn
9401-1 Glenwood Avenue
Raleigh, NC 27617
Tickets purchased online through the link below, in the form of a donation to Roger Allison for Congress. Checks may also be mailed to the address found on our "Contribute" page.
OUR SPEAKERS
Candace Owens is a Conservative commentator and activist, who frequents Fox News, in addition to various media outlets. She currently serves as the Communications Director for Turning Point USA. Candace recently made headlines for addressing the black community, remarking that African-Americans voting for the Democratic party is "modern day slavery." Her comments attracted world-renown rapper, Kayne West. Candace recently met with President Trump and continues to be a national voice for millennials, Conservatives and African-Americans all around the country.
At nearly 600k followers, view Candace's Twitter profile here: https://twitter.com/realcandaceo?lang=en
View some of her videos here: https://www.facebook.com/realCandaceOwens/
Mark Robinson gained national attention after appearing at a Greensboro, NC City Council meeting, calling on the leaders to quit condemning gun owners/gun rights. Mark is a fearless patriot dedicated to advancing/preserving the values our nation was founded on. He recently was featured in NRA's ad campaign titled "There's Millions of Me." View the incredible video here: https://www.nratv.com/videos/five-million-voices-mark-robinson-theres-millions-of-me
Tami Fitzgerald is the Executive Director of North Carolina Values Coalition. Tami has spent a lifetime serving and protecting pro-life, pro-family, and pro-religious liberty values. Whether it is through 22+ years of legal work across three states, or serving as the chairwoman of the successful NC marriage amendment, Tami has sought to protect the type of values conducive to a healthy and flourishing society. She made national news, endorsing NC House Bill 2, working to protect our state's children in public restrooms. Read more about Tami and NC Values here: https://www.ncvalues.org/tami_fitzgerald