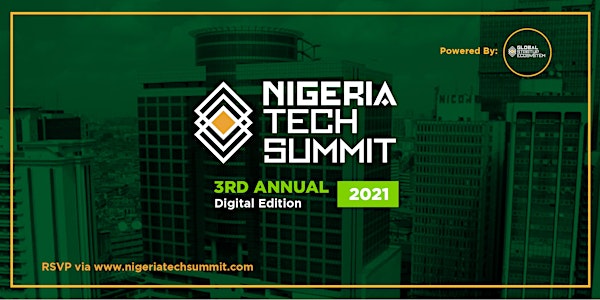 Nigeria Tech Summit (2021)
3rd Annual Nigeria Tech Summit Will Welcome 3000 Speakers, Partners & Attendees
When and where
Location
Transcorp Hilton Hotel Transcorp Hilton Hotel Abuja, 000000
About this event
ATTN: 3rd Annual Nigeria Summit
LOCATION: Hybrid/Virtual/Live Edition
MEMO: An initiative hosted by the Global Startup Ecosystem in partnership with Forbes, Google Cloud, AWS, and IBM Cloud
For interests related to speaking, sponsorships, and partnerships, please direct inquiries to events@globalstartupecosystem.com .
The Global Startup Ecosystem returns with the 3rd annual Nigeria Tech Summit which will take place on December 17, 2021 (10am-5pm EST) at Abuja Hilton Hotel with virtual live access to global delegates. The program sponsored by the US Embassy of Nigeria will be hosted in partnership with accelerator partners IBM Cloud, AWS, Google Cloud, Sendgrid, and more.
This free live summit event will welcome delegates from across Nigeria and around the world to discuss the future of employment, entrepreneurship, and education in Nigeria as the country faces its highest level of youth unemployment and civic unrest. Insights and initiatives leveraging tech and innovative inclusive ways to accelerate the future of Nigeria will be discussed.
Abuja The U.S. Mission in Nigeria is pleased to announce its continued partnership with the Nigeria Tech Summit. The Embassy will continue its commitment to Nigerian entrepreneurs to empower and lead during a time of crisis with resilient entrepreneurship and technology.
As part of the U.S. Embassy in Nigeria's on-going efforts to promote entrepreneurship and economic growth, the Embassy welcomes representation from creators and innovators from throughout Nigeria to participate in this virtual program.