Join us for a lecture and reception with the artist to celebrate the opening of "Nicole Seisler: Holding Patterns."
About this event
Nicole Seisler is a Los Angeles-based ceramic artist who creates sculpture, installation, and public art that investigate time, materiality, process, and the overlapping roles of artist/viewer/participant/collaborator. Nicole has exhibited widely at museums ranging from the Museum of Fine Arts Boston and the Museum of Fine Arts Tallahassee to the Museum of Contemporary Photography in Chicago and Craft Contemporary in Los Angeles. Her book Recipes for Conceptual Clay (in the time of covid-19) was published in 2020.
3 PM: Reception
4 PM: Artist Talk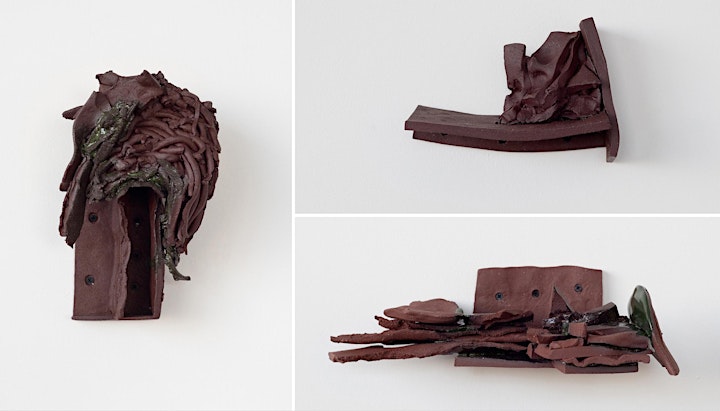 "These Holding Patterns are self-contained and self-reliant. A slab is stretched, cut into parts, and constructed into a shelf. The cutoffs, remnants and residue from each slab–material typically discarded or recycled–is reattached with glaze and displayed prominently. In essence, the function of each shelf is to hold and present the discarded parts of itself. Each shelf explores a different type of holding pattern, whether technical, physical, geographical or psychological. The accompanying porcelain mind map elucidates this content and the process of making it visible."
Nicole received her MFA from the School of the Art Institute of Chicago (SAIC) and her BFA from the School of the Museum of Fine Arts, Boston. She has taught ceramics at SAIC, the University of Washington, UCLA, and she was the Lincoln Visiting Professor of Ceramics at Scripps College. Nicole is also Director of the Los Angeles contemporary ceramics gallery A-B Projects, where she has curated over thirty exhibitions and offers programming that rigorously reevaluates the trajectory of contemporary ceramics.
Organizer of Nicole Seisler: Holding Patterns - Lecture & Reception