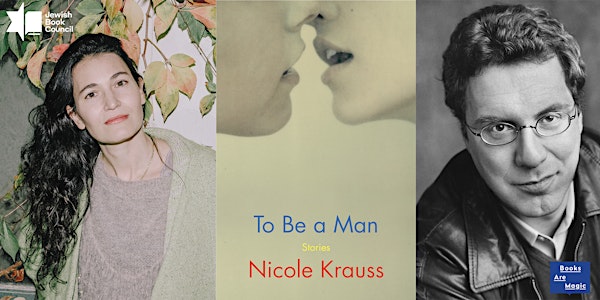 Nicole Krauss in Conversation with Jeremy Dauber
Join Jewish Book Council for a very special conversation between Nicole Krauss and Jeremy Dauber about Nicole's new book, *To Be a Man.*
About this event
The ticket price includes a signed copy of To Be a Man: Stories, fulfilled by independent bookstore partner Books are Magic. Personalized copies are available.
Already have the book? You can ship a signed, personalized copy as a gift! (Just fill in gift recipient's shipping address.)
Additional add-ons will be available at checkout, including Nicole Krauss's Forest Dark, Jeremy Dauber's Jewish Comedy: A Serious History and Mayhem and Madness: Chronicles of a Teenaged Supervillain, and the fourth volume of Jewish Book Council's literary journal Paper Brigade (previous volumes can be purchased here).
--
In one of her strongest works of fiction yet, Nicole Krauss plunges fearlessly into the struggle to understand what it is to be a man and what it is to be a woman, and the arising tensions that have existed from the very beginning of time. Set in our contemporary moment, and moving across the globe from Switzerland, Japan, and New York City to Tel Aviv, Los Angeles, and South America, the stories in To Be a Man feature male characters as fathers, lovers, friends, children, seducers, and even a lost husband who may never have been a husband at all.
The way these stories mirror one other and resonate is beautiful, with a balance so finely tuned that the book almost feels like a novel. Echoes ring through stages of life: aging parents and new-born babies; young women's coming of age and the newfound, somewhat bewildering sexual power that accompanies it; generational gaps and unexpected deliveries of strange new leases on life; mystery and wonder at a life lived or a future waiting to unfold. To Be a Man illuminates with a fierce, unwavering light the forces driving human existence: sex, power, violence, passion, self-discovery, growing older. Profound, poignant, and brilliant, Krauss's stories are at once startling and deeply moving, but always revealing of all-too-human weakness and strength.
Nicole Krauss is the author of the novels Forest Dark, Great House, The History of Love, and Man Walks Into a Room. Her work has appeared in the New Yorker, Harper's, Esquire, and The Best American Short Stories, and her books have been translated into more than thirty-five languages. She is currently the inaugural writer-in-residence at Columbia University's Mind, Brain, and Behavior Institute. She lives in Brooklyn, New York.
Jeremy Dauber is a professor of Jewish literature and American studies at Columbia University, where he directed the university's Institute for Israel and Jewish Studies for ten years. He is the author of several non-fiction books; the last two, The Worlds of Sholem Aleichem and Jewish Comedy: A Serious History, were both finalists for the Jewish Book Council's National Jewish Book Award. On a less serious side, Jeremy is also the author of a young adult novel, Mayhem and Madness: Chronicles of a Teenaged Supervillain, which is coming out in paperback in three weeks (and available for pre-order!).
Jewish Book Council is a nonprofit organization dedicated to educating and enriching the community through Jewish literature, strengthening connections to Jewish life and identity, and inspiring conversations among generations of readers. Jewish Book Council reaches more than half a million readers annually through its celebration of the National Jewish Book Awards and Natan Notable Books, through its 1,300 Jewish literary events across North America, through book club resources, and through weekly editorial content and its annual literary journal Paper Brigade, among other initiatives. With ori­gins that date back to the early twentieth century, it one of the old­est orga­ni­za­tions pro­vid­ing con­tin­u­al ser­vice and education to the Amer­i­can Jew­ish community.