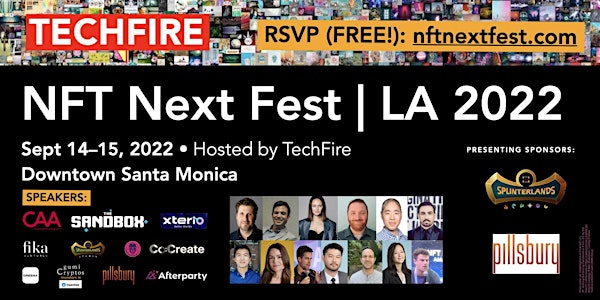 NFT Next Fest | LA 2022 | Hosted by TechFire
NFT Next Fest | Hosted by TechFire | Downtown Santa Monica | Sept 14-15, 2022
When and where
Location
The Historic Landmark Building at 1210 Fourth Street in Santa Monica 1210 4th Street Santa Monica, CA 90401
Refund Policy
Contact the organizer to request a refund.
Eventbrite's fee is nonrefundable.
About this event
Join us for NFT Next Fest, a major NFT conference hosted by TechFire featuring leaders from giants like The Sandbox, Creative Artists Agency, & Splinterlands; investors in companies like OpenSea; and much more! Plus DeFi + DAO experts too!
Join top leaders from the NFT and web3 community for interesting talks and panels, and great networking, live in-person Sept 14-15, 2022 in Downtown Santa Monica, hosted by TechFire.
With 60+events since 2013, TechFire has been recognized in Techmeme's list of nationally significant tech events. This will be a fun event, and we can't wait to see you there!
In addition to the main NFT Next Fest sessions, Day 2 of the event will also feature a DeFi & DAO Summit (free with your NFT Next Fest ticket).
To support rebuilding the #NFTcommunity post-crypto crash, we've made tickets FREE; plus we have some great VIP options for those who want something even more special, too!


EVENT OVERVIEW:
NFT Next Fest | LA 2022, plus a DeFi & DAO Summit
Join us September 14-15, 2022 for a major a major event featuring top NFT & Web3 leaders from The Sandbox, Creative Artists Agency, Splinterlands, and more, plus VC investors who've backed NFT giants like OpenSea!
Visit nftnextfest.com for full event details!
SPECIAL THANKS TO OUR SPONSORS:
TechFire acknowledges the key support of the summit's Presenting Sponsors, Splinterlands and Pillsbury Winthrop Shaw Pittman LLP.
Pillsbury Winthrop Shaw Pittman LLP has been recognized by the Financial Times as one of the most innovative law firms. Pillsbury has been a leader in helping clients navigate the many legal questions that arise in the uncharted waters of NFTs and web3 more broadly, drawing on its deep experience serving clients across tech, media, financial services, energy, real estate and other industries. From helping draft the original Patent Act that shapes patent law today, to incorporating Intel and leading its IPO, to advising the new emerging companies and projects of today that will be the giants of tomorrow, you can learn more about Pillsbury's NFT expertise here or by visiting pillsburylaw.com. Pillsbury's Carolyn Toto will be joining us to moderate a panel, and Michael Horikawa will be presenting.
Splinterlands, the blockbuster NFT game, has been ranked by DappRadar as the number one game on any blockchain, and Splinterlands' CEO Jessie Reich ("Aggroed") will be joining us to speak. Splinterlands is a free to play blockchain trading card game, and the rapid battles in Splinterlands are fast and furious, with each game only taking a few minutes. The Splinterlands company was founded in 2018 by Jesse "Aggroed" Reich (who will be speaking at the event!) and Matt Rosen. Its fantasy-themed collectible card game, Splinterlands, currently boasts 2.4M registered users and more than 1M unique active wallets, handling 3-5M blockchain transactions a day. Learn more and sign up at splinterlands.com
INTERESTED IN SPONSORING OR EXHIBITING, TOO?
Request a sponsorship packet by emailing david@techfire.co. TechFire has been trusted by a wide range of top brands across our 60+ events, and we'd love to earn your trust as a sponsor for this very special event, too. Click here to view details on past sponsors and past (web 2.0) events.
SPEAKERS:
Speaker lineup: See nftnextfest.com for the current lineup, which features leaders from The Sandbox, Creative Artists Agency, Splinterlands, and more, plus VC investors who've backed NFT giants like OpenSea!
TechFire's Los Angeles NFT Summit will feature top speakers from across the NFT ecosystem. Invites are going out to top NFT project creators, founders and executives of top NFT platforms, and other top NFT experts and analysts. More details on the event, including confirmed speakers and more information about the event will be announced soon. Past TechFire speakers who've gone on to be active players in the NFT ecosystem include the likes of Creative Artists Agency's Michael Yanover and Sequoia Capital's Shaun Maguire, among other notable past speakers like the first institutional investor in crypto, Pantera Capital's Dan Morehead.
SPEAKER SUBMISSIONS: While TechFire is extremely discriminating about speaker selections, prospective submissions and suggestions may be emailed to david@techfire.co.
VENUE:
Venue Info: The Historic Landmark Building at 1210 Fourth Street in Santa Monica. We're excited to return to the same venue as our 2015 conference and many other TechFire events over the years, the Historic Landmark Building at 1210 Fourth Street, in the heart of Downtown Santa Monica. Across TechFire's 50+ past events in LA, we've had more events here than any other venue. You can see photos of past events here.
Address: 1210 4th Street, Santa Monica, CA 90401
Directions: Downtown Santa Monica is arguably the most multi-modal friendly part of SoCal, with numerous biking, scooter, transit, walking, and driving/parking options. Check out apps/sites like Google Maps or Citymapper for options.
Parking: Downtown Santa Monica has numerous public parking structures, as well as private lots (including a small paid surface lot next to the venue, and a public parking structure next to that).
NETWORKING:
The event will feature great networking opportunities, too. Don't miss out! Past events have attracted attendees flying in from as far as Miami and even Europe.
IMPORTANT: FREE TICKETS DO NOT GUARANTEE ADMISSION ONCE CAPACITY IS REACHED!
While we've never had to turn anyone away, free tickets do not guarantee admission in the event that things fill up. We suggest arriving early for the best chance of access. But again, we've never had to turn anyone away across our 50+ live events in LA.
VIP TICKETS
VIP tickets add reserved seating in the front row(s) of the conference, plus an invite to the VIP dinner the night before (~6 pm, Sept 13 in Downtown Santa Monica -- details will be emailed to paid VIP ticket holders.
SATELLITE EVENTS / AFTER PARTIES ENCOURAGED: NFT Projects and others interested in hosting after parties are encouraged to plan additional events too--email us at david@techfire.co if you're hosting one!
ABOUT TECHFIRE (techfire.co):
Founded in 2013 in Santa Monica and today headquartered in Silicon Valley, TechFire is a leading producer of tech conferences and events, and has been recognized in Techmeme's list of nationally- and internationally-signfiicant tech conferences. Click here for a PDF with photos and details about our 60+ past events. TechFire is led by Founder & CEO David Murphy (@DavidCMurphy, davidcmurphy.eth, david@techfire.co).
QUESTIONS?
How to I get in touch with other questions?
Email hello@techfire.co.
TERMS:
VACCINATION REQUIRED. A full COVID-19 vaccination is required at least two weeks before the event. Be prepared to be able to show proof. Masks strongly encouraged. COVID safety requirements may change at the time of the event, and by registering you agree to them.
NO HARASSMENT POLICY. We have zero tolerance for any harrassment of any kind. Please report any bad behavior to us so we can assist. Harassment is cause for immediate removal from the event, without refund.
Any mask shaming of people wearing masks or making fun of people taking other COVID precautions will be reason for immediate ejection from the event, without any refund.
ATTENDEES:THIS EVENT IS FOR THOSE IN/INTERESTED IN THE NFT/WEB3 /TECH/BUSINESS & RELATED COMMUNITIES OR OTHERS INVITED TO ATTEND (BY TECHFIRE OR ITS EVENT PARTNERS. RSVP REQUIRED OR INVITE REQUIRED -- NOT OPEN TO GENERAL PUBLIC OFF THE STREET.
Must be 21+ to attend.
FOR PAID SALES: ALL SALES FINAL. All sales are final/no refunds (although you can transfer your ticket to someone else if you wish). While we do not hope for any problems, should the event be postponed due to COVID-19 or other reasons, tickets will be transferred to the new event date.
By registering you agree to assume all risks relating to COVID-19 exposure and to waive all rights of a claim or lawsuit against us, and to hold TechFire/DMBH Group and related entities, and their ownership/staff/contractors/affiliates harmless with regard to all matters relating to COVID-19.
Additional terms on Techfire.co (https://www.techfire.co/site-credits-terms) are incorporated herein by reference.
By registering, you agree that registration details may be shared with our sponsors, and possibily if required your registration details with contact details shared with our venue.
We are grateful to have you joining us, and look forward to a great event!
TechFire is ©2013-Present DMBH Group.
Image of Beeple's Everydays—The First 5000 Days
Image credit Beeple/Christie's