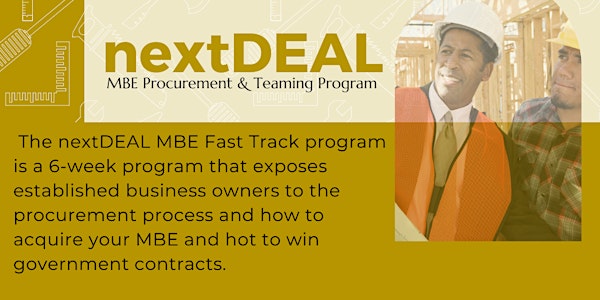 NextDEAL: MBE Fast Track Program
This a 6-session procurement focused program on how to become MBE and acquire government contracts by lead instructor, Kevin Davenport.
About this event
The nextDEAL MBE Fast Track program is a 6-week, 6-session program that exposes established business owners to the procurement process and how to acquire your MBE and hot to win government contracts. Class is on Tuesday evenings from 6pm - 7:30pm. Nov 1st is the first day of class and last class is on December 6th
.The lead instructor for this program is CUL's Director, Kevin P. Davenport. The program will also host additional procurement subject matter experts throughout to make this program as impactful as possible.
Each business graduate will receive or be prepared to: obtain their MBE/WBE/DBE certifications, capability statements so they can network and big on contracts, executive training to become the best team leader, & other business support training such as; legal, branding, & access to capital.
Pictures:
1. Class Day 1's Flyer
2. 2020 NextDeal Graduates to reflect the expected Zoom Courses.