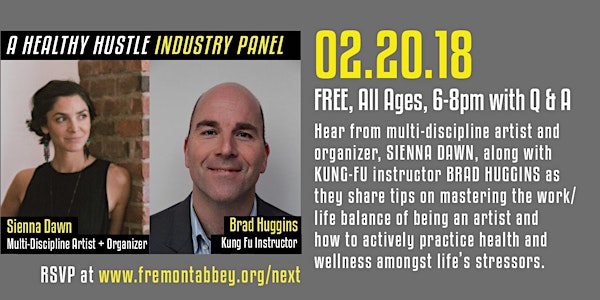 NEXT STAGE Workshop: "A Healthy Hustle" - Industry Panel
When and where
Location
Fremont Abbey Arts Center 4272 Fremont Avenue North Seattle, WA 98103 United States
Description
2/20:
NEXT STAGE Workshop: "A Healthy Hustle" - Industry Panel
Hear from multi-discipline artist and organizer, SIENNA DAWN, along with KUNG-FU instructor BRAD HUGGINS as they share tips on how to master the work/life balance of being an artist and actively practice health and wellness amongst life's stressors. Learn techniques to remain productive while balancing time for life experiences by maintaining your artistic pursuit and your overall health at the same time.
@ Fremont Abbey Arts Center

6-8p workshop, 5:30p doors
FREE
All ages, seated
More about our Next Stage artist development program here:
www.fremontabbey.org/next
MORE EVENT INFO:
- We have a mix of normal chairs, some tall chairs, and standing room in back if the show sells out.
- Seating is not reserved.
- Fremont Abbey is ADA accessible on either level.
- We are an all ages venue.
- Please refrain from talking or texting during the show.
- Kids 10 & under are free at Abbey Arts concerts & arts events unless noted.
ABBEY ARTS, SEATTLE | NONPROFIT 501C3, NON-RELIGIOUS, EST. 2005
Presenting welcoming music, arts & cultural experiences for people of all ages & incomes.
We support low income families, veterans, and humanitarian nonprofit workers with free event tickets. http://www.fremontabbey.org/artsconnect
Venue rental info & more: http://www.fremontabbey.org/rent
Concert & events calendar: http://www.abbeyarts.me
Home Venue: Fremont Abbey, 4272 Fremont Ave North, Seattle, WA 98103 / 206-414-8325
Ballard Homestead: 6541 Jones Ave NW, Seattle