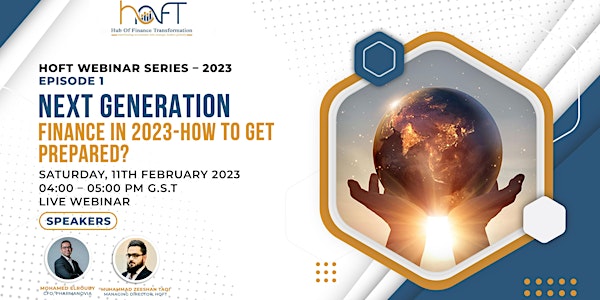 NEXT GENERATION FINANCE IN 2023 - HOW TO GET PREPARED?
Next Generation Finance in 2023 - How to get Prepared ?
By Hub Of Finance Transformation - HOFT
Date and time
Saturday, February 11 · 4 - 5am PST
About this event
About the Webinar
Business models are constantly changing due to technological disruptions, global economic crisis, changing customer needs & business environment. The Covid-19 pandemic has injected more volatility, uncertainty, complexity and ambiguities to most business models. To remain relevant, finance professionals must re-think traditional skill requirements, processes and systems to focus on how they will deliver more value to their businesses while growing professionally.
This is the reason, most finance leaders today recognize they need to change what has been done in the past by growing new skills, modernizing infrastructure and moving towards more pro-active, collaborative models.
Historically, the finance function has been involved in preserving business value. Today the focus includes creating business value. This is accomplished by instilling the right mindset, people, processes and systems / technology to drive key business decisions.\
Join us in this insightful webinar where 2 global finance leaders will share their experience on how to get prepared for the Next Generation Finance in 2023 in order to not only survive but also thrive in your organization and in the talent market.
About the Speakers
Mr. Mohamed Elrouby
Mohamed is a Finance Business Partner/ FP&A leader, with more than 18 years of experience in global multinational companies ; J&J, Novartis, Allergan, Takeda, and Energizer
He Handled multiple international senior finance roles across Middle East, Africa, India, Turkey and South west Asia
He is also International finance writer & speaker
He holds following professional qualifications
CGMA Chartered Global Management Accountant from CIMA Chartered Institute of Management Accountant, UK
FP&A Certified Corporate FP&A professional, from AFP Association for Financial Professional, USA
• MBA in Finance & Investment
Mr. Muhammad Zeeshan Taqi
Mr. Muhammad Zeeshan Taqi is the Founder and CEO Of HOFT Group.
He is a globally renowned finance thought leader, speaker and practitioner in the area of finance transformation and strategic finance with more than 17 years of well diversified experience within Asia & Gulf region in multiple industries.
He has worked for big 4 and UAE Government entities as well including PWC, Asia Constructions, Telecommunications & Digital Government Regulatory Authority, Atheneum Consulting and big family owned businesses in U.A.E, Oman & K.S.A.
He has also been recognized as one of the world's top 20 FP&A Influencer in July 2022 by Data Rails, NewYork on LinkedIn.
He held some senior level positions in finance and accounting during his career including Group CFO, Head Of FP&A and Head Of Accounts and led major finance digital transformation projects as a team lead in finance transformation project management office.
He has also acted as the President of the Middle East CFO Alliance and worked closely with CFOs and Finance thought leaders on development of the next generation finance professionals in the middle east region.
He is a qualified Chartered Accountant from U.A.E, ACCA Member-U.K, Certified Finance Transformation from AICPA and a Certified Strategic CFO from U.S.A.
About the organizer
OUR VISION
To transform finance professionals into strategic finance leaders globally.
OUR MISSION
To build a global network & community of highly polished, tech-savvy and strategic minded accounting & finance professionals with an unique ability to add tremendous amount of value to their employers, businesses, families and communities.
Our ultimate aim is to create, nurture & maintain an environment of growth, challenge & unlimited potential for all those around us.