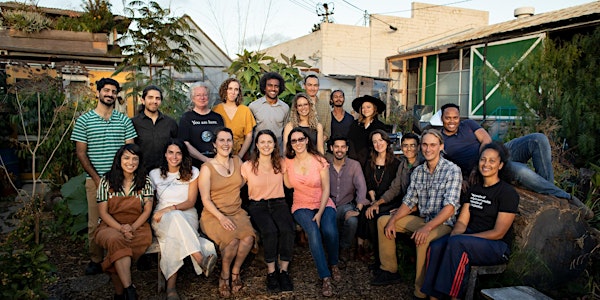 Multiple Dates
Next Economy MBA Cohort VI: Meet the Instructors & Interactive Q&A!
For those interested in developing skills and knowledge and becoming part of a learning community intent on transforming the economy for all
About this event
Are you a concerned citizen with a bold world-changing idea?  Do you have a friend/family member wanting to align their work or money with their values? 
Join a FREE video webinar with the LIFT Economy team to answer all your questions about our upcoming Cohort VI of our Next Economy MBA program! So far - nearly 250 people have gone through or are enrolled in the Next Economy MBA program - building the pool of visionaries who are boldly and radically redefining the way our economy works.
Entrepreneurs and aspiring entrepreneurs often want knowledge about the fundamentals of business, but the content taught in the vast majority of MBA programs is based on outdated principles that were developed during the industrial revolution and oriented toward the outcome of producing functional mid-level managers of large multinational corporations. MBA programs are also incredibly expensive, costing roughly $100k-$150k for a two-year degree. This ultimately exacerbates the cycle of wealth extraction and forces aspiring entrepreneurs to become reliant on high-salary positions to pay down their debt.
The LIFT team has spent nine years working with more than 250 social enterprises that are building the Next Economy. We have identified patterns that we feel that every entrepreneur should know in order to be prepared for the future of business. 
What is the Next Economy? Cumulatively, the LIFT team has decades of experience bringing innovative ideas from idea-stage into action in the next economy. We'll discuss our observations of the principles entailed in operating Next Economy enterprises and how you can be a part of this emergence.
What will I learn? During this call we will answer your questions about the Next Economy MBA and cover a summary the core concepts we will cover in the training.  We will share an example of one of the key organization templates we use in the training and offer that to you free.  
Are you dissatisfied with your existing career or seeking pathways to do more? We'll walk you through the options from career-shifting to working within the belly of the existing corporate structures to effect radical transformation and channel resources towards the next economy.
LIFT Economy's Next Economy MBA is a nine-month online learning course for entrepreneurs and aspiring entrepreneurs who want to learn key business fundamentals (e.g., vision, culture, strategy, and operations) from a regenerative, Next Economy perspective.

Organizer of Next Economy MBA Cohort VI: Meet the Instructors & Interactive Q&A!
LIFT Economy is an impact consulting firm whose mission is to create, model, and share a locally self-reliant economy that works for the benefit of all life. We were founded by serial entrepreneurs who observed social entrepreneurs being strong on passion and purpose and lacking the business mechanics to support a durable organization.
Inspired to empower the growth of these companies bringing important solutions to market, we have developed a simple business design methodology and have been refining it with 100+ client companies over the past 5 years. Now we want to increase the growth of the movement by sharing our methodology and best practices with our community of professionals also doing the good work of helping these organizations stabilize and grow. You may recognize some of our larger B Corp Clients such as Method, Nutiva and World Centric but we also work with small, innovative companies such as Permaculture Artisans and the CoLab Coop.
"LIFT has been a tremendous ally in helping us to maximize our future impact. Their thought leadership and guidance has been invaluable."
— Aseem Das, Founder & CEO at World Centric
"Running a small business is hard enough, and for us with our ethics of earth care and people care the bar is even higher. Not sure how we would do it without the trusted, values aligned guidance from LIFT to give us the high level perspective we need to plan for our future growth."
— Erik Ohlsen, Founder & Owner at Permaculture Artisans
See our website for more about us, our clients and the Next Economy. www.LIFTeconomy.com