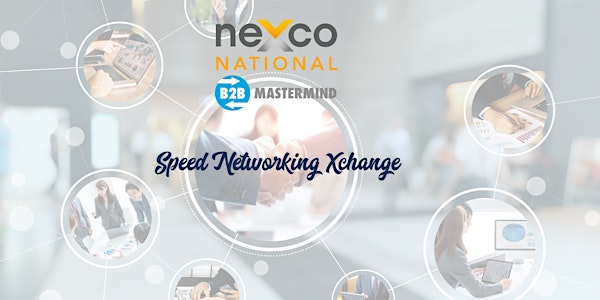 neXco National B2B Speed Networking Xchange
Virtual B2B Speed Networking
About this event
Are you a B2B networker? Do you service and market 100% to businesses and business owners?
If so, please join us at our VIRTUAL neXco National Speed Networking Xchange.
You will get the opportunity to meet 6 other B2B business professionals around the country who can potentially become referral centers and partners for your business.
This event is OPEN to all neXco National Members and Non-Members. There is no charge to attend.
You will be sent a Zoom link to the meeting upon registration.
Rules of Engagement:
We have a few asks to ensure the event runs smoothly.
Be On Time
Even better, join early to ensure your device is working properly before the meeting starts. You will not be admitted if you join later than five minutes in.
Stay For The Duration
If you aren't able to stay for the hour, let us know at least one day prior to the event and we can remove you from the event and add you to the next one. Break-out rooms work best when everyone stays the duration.
Mute & Unmute
Mute your line when not talking and unmute it when talking. Virtual meetings have been around for a while but these faux pas are still common.
Be Respectful
The breakout rooms are timed so make sure everyone gets a chance to speak.
Don't Join From Your Car
Please join the event from somewhere with good network connections. And please don't drive and network!
Be Prepared
Have your elevator pitch ready and specific questions you would like to ask during the breakout sessions. Remember to share your details and take notes for future referrals or networking opportunities.