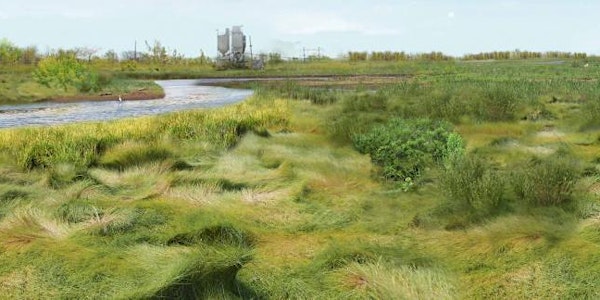 New Trends in Coastal Mitigation: A Detailed Look at In-Water Impacts & Mit...
Location
NYC Cornell Art, Architect, Planning Studio
26 Broadway
New York, NY 10004
Description
Building on last fall's Permitting 101 education event, join the APA Waterfront Committee for a continuing education event to learn about emerging trends in coastal in-water impact mitigation. The following presentations to be given followed by discussion and Q & A:
Floating Structures Pilot Project: Fish Utilization & Response and Hydrodynamics & Sediment Transport
Bonnie Harken, Nautilus International Development Consulting, Inc.
Wetland Mitigation in NYC
Marit Larson, Chief of Natural Resources NYC Parks
NYC's First Bank and Available Wetland Mitigation Credits
Max Taffet, Vice President of Ports and Transportation, NYCEDC
Bonnie A. Harken, AIA, APA, is President of Nautilus International Development Consulting, Inc., a multi-disciplinary firm which consults about strategies for planning and implementing successful, sustainable developments that transform cities. Founded in 2003 with a special strength in resilient urban waterfronts, Nautilus has worked in over 25 countries. Recently, Nautilus International was the lead consultant for the PANYNJ on a multi-year study about revitalizing six miles of waterfront in SW Brooklyn and led a consulting team who conducted scientific research about the environmental effects of near-shore floating structures, like ferry terminals, in New York Harbor. Ms. Harken is an internationally-recognized expert in urban waterfront redevelopment and downtown revitalization. Early in her career, Ms. Harken led urban design and architectural teams on a wide number of projects at Battery Park City in New York. Other waterfront projects include strategic planning for General Motors' 5.5M sf riverfront headquarters in Detroit. Ms. Harken served as the APA NY Metro's representative on the Mayor Bloomberg's Waterfront Management Advisory Board. Ms. Harken's work has won numerous awards for design excellence as well as for meritorious service to the profession from APA. Ms. Harken grew up in Asia and Latin America, studied environmental design at Parsons School of Design, real estate finance at NYU, and holds a Master of Architecture from Columbia University.
Marit Larson is the Chief of Natural Resources for NYC Department of Parks and Recreation. She is an environmental scientist with Masters degrees in environmental engineering from the University of Washington and resources management from the University of California at Berkeley. Beginning with a Fulbright Scholarship in Germany to study stream restoration, she has worked on stream and wetland restoration and protection in urban areas for over 25 years. Ms. Larson oversees the protection, restoration, management and conservation of New York City Parks' 10,000 acres of natural spaces. She is responsible for forest and wetland research, conservation research, and stormwater green infrastructure design and construction, as well as for New York City's native plant center and its Urban Field Station — a collaboration with the U.S. Forest Service.
Max Taffet is a Vice President at the New York City Economic Development Corporation in the Ports and Transportation division. Taffet is currently working to implement NYC's first wetland mitigation bank. Following federally established Clean Water Act guidelines for offsetting impacts to aquatic resources, this 69-acre site on Staten Island's West Shore is generating credits that represent the first ever environmental compensatory currency to exist in the Port of New York. As VP of Waterfront Planning, Taffet implemented a website called "Waterfront Navigator.NYC" intended to rationalize permitting of coastal development and maintenance as well as leads other complex waterfront siting projects.Taffet has a Masters in Regional Planning from Cornell University and received a B.A. at the University of British Columbia.