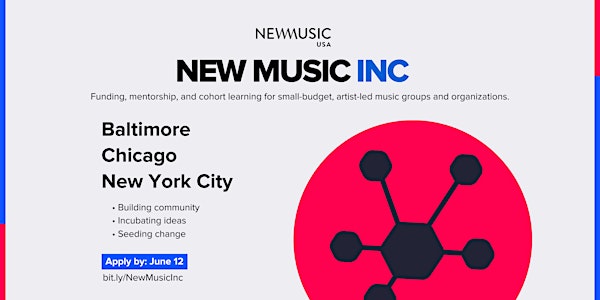 New Music Inc | Free Application Webinar + Q&A
New Music Inc is an incubator program that helps small-budget, artist-led new music groups and organizations in NYC, Chicago, and Baltimore
Date and time
Thursday, May 25 · 11am - 12pm PDT
About this event
Please join us, and register for New Music USA's free webinar explaining the New Music Inc program application. Visit the program page for more details https://newmusicusa.org/program/new-music-inc/
New Music Inc Program
New York City, Chicago, or Baltimore
Funding, mentorship, and cohort learning for small-budget, artist-led music groups and organizations.
About the Program
New Music Inc is an incubator program that helps small-budget, artist-led new music groups and organizations in New York City, Chicago, and Baltimore to generate new ideas, strategies and collaborations at pivotal stages in the group or collective's development. The program provides each participating organization with financial support coupled with 12 to 18 months of hands-on skill-building in a cohort environment intended to foster collective learning and collaboration. In each city, a locally based Program Coordinator will facilitate the program, working closely with participants in helping them reach their goals.
New Music Inc is open to organizations, collectives, or groups working in any music style. Each cohort will consist of 50% BIPOC-led organizations to reflect the diversity of creators and artists who are contributing to each location's music community. A 501(c)3 status tax status is not required.
The program will explore themes and challenges identified by participating organizations in collaboration with our Program Coordinators and New Music USA staff. We anticipate that this may include audience development, fundraising, marketing, equity and diversity, board development and other areas of strategic planning. Our overarching goal is to create a supportive space through which a cohort of artist-led organizations can learn together, sharing the unique challenges and opportunities they face.
Our New Music Inc program is based on the New Music Capacity Building Program that we launched in 2020 with support from The New York Community Trust. It includes core elements of our capacity building program model with new opportunities for inter-city exchange generated by the program's delivery concurrently in three cities – Chicago, Baltimore and New York.
Regional New Music Inc programs are funded and made possible by The New York Community Trust (New York City) and the Walder Foundation (Chicago). The Baltimore program is supported in part by grants from the Robert W. Deutsch Foundation and The Jacob and Hilda Blaustein Foundation.
Who can apply?
We welcome applications from small-budget music organizations - including performance groups, ensembles, collectives, recording labels, festivals, presenters, venues, and more – with an operating budget of less than $250k. Applicant organizations can be based in any borough or neighborhood of New York City, Chicago, and Baltimore. All applicants must confirm their ability to fully commit to program activities, during the proposed timeframe of each program
Visit the program page for more details https://newmusicusa.org/program/new-music-inc/
About the organizer
New Music USA supports and promotes new music created in the United States. We foster connections, deepen knowledge, encourage appreciation, and provide financial support for a diverse constituency of new music practitioners and appreciators, both within the United States and beyond.