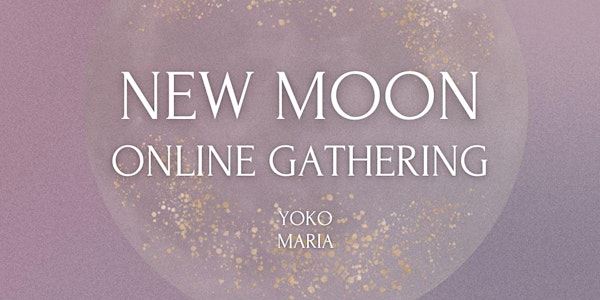 New Moon Online Gathering - Mars Moon in Aries
The New Moon is a time to plant a new seed. Make a wishlist with insights from the Aries Moon, and meditate with a like-minded community!
Date and time
Monday, March 20 · 4:30 - 6:30pm PDT
Refund Policy
Contact the organizer to request a refund.
Eventbrite's fee is nonrefundable.
About this event
New Moon is the time to plant a new seed (or many seeds) along with the phase of the Moon, and the Moon is ready to be reborn again. I am going LIVE for this New Moon Online Gathering, and will share my insight around the Archetypal power of this moon that we can awaken as our power of creation. Balancing all these different qualities within us is important to truly manifest our own unique Archetype to share with the World, to shine bright as a STAR.
🌝 Learn how to work with the archetypes of this moon cycle
🌝 Plant seeds for a new moon manifestation wishlist
🌝 Engage with the energies through a guided meditation
🌝 Oracle reading personalized for all those who attend live on the call
We will host this event live on Monday night, but all those who register will get access to the recording emailed to them afterwards.
We hope to see you there online in the New Moon energy!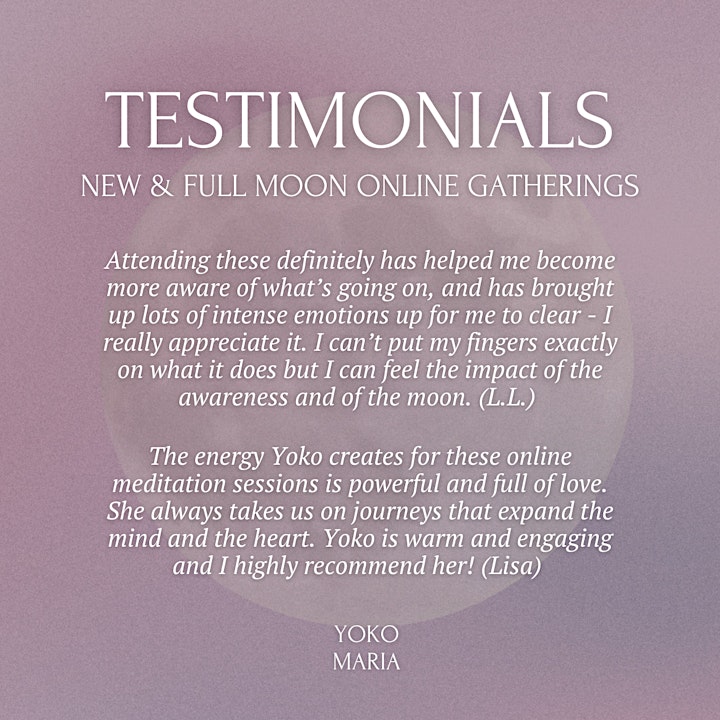 About the organizer
Yoko is highly trained Psychic/Spiritual Teacher for your SOUL to BLOOM - Bridging Your Physical Life and Life Purpose. Her Iconic character is Unicorn that represents her quality and service: Purify the Soul, Organize the Mind and Open the gates of the Heart to live your life fully, reclaim the crown of your birthright.

Yoko is born and raised in the Country of Rising Sun, Japan and has been enjoying studying, working and living in cosmopolitan cities like Paris, London, Firenze, Tokyo, and now currently resides in NYC. With the ability to speak 4 languages, she has developed and expanded her mind to be able to adopt and communicate with a wide range of mind-set and expression. Her love and admiration for philosophy, science and art lead her toward Metaphysical study that is beyond human mind.

She has worked in the field of luxury and quality, especially fine wine and dining where she refined her Senses to perceive beauty and pleasure of Life. She refined her Senses to perceive the beauty of Spirit (Essence) through perception of Physical in the most exquisite and pleasurable way. 10 years of working experience in the Cooperate makes her a reliable Spiritual Teacher with deeper understanding and grounded advice.

She has been highly trained in the Metaphysical Science / Art and teaching the Core Programs of the Path of Progression with Modern Mystery School for more than 15 years. She offers Sacred Geometry Courses in NYC as well as Empower Thyself Initiation Class, Spiritual Romance, Universal Kabbalah, etc. Her experiences of living abroad and harnessing 4 human languages made her quite unique hybrid of Western - Eastern Hermetic Tradition.

She is a Natural-Born Psychic and highly trained Channel within the Lineage of King Salomon and is the only Graduate of Channeling School with the Modern Mystery School in the West. Her Channeling Message is very Healing and Empowering, penetrating through your Mind and Heart, right into your SOUL to awaken that Core Being of Who You Really Are.

She is trusted and respected Teacher who has been actively initiating, supporting, nurturing beautiful Souls that she has been working with worldwide. Her passion is to Bridge different qualities into Unity made with variety of authentic expression.