LAST NEVER QUIT VIRTUAL. NQ bundle items at an amazing price: Necklace, Hat, Shirt, Medallion, Decal, Bib, 2nd free medal, $340 value
About this event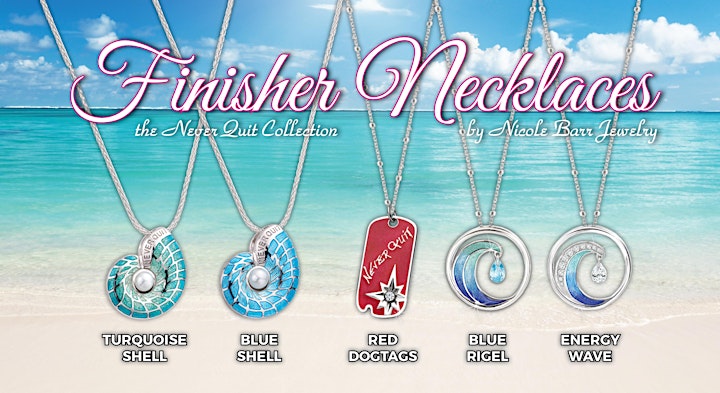 You Receive 7 NEVER QUIT Race prize items worth $340
This is your final chance to collect items that will never be made again, to complete your NEVER QUIT collection, for a ultra low price of:
Option: A). $39 + shipping for all 7 items if you choose one of the 2 flat Eagle medals. (Military or Gold Star Eagle medal) (+ $10 shipping USPS Priority shipping, tracking, Insurance & handling)
OR
Option: B). $59 for the Giant 3D Eagle Head medallion. ***ONLY 29 OF THESE AVAILABLE*** (+ $10 for USPS Priority shipping, tracking, Insurance & handling)
1) Finisher medallion of your choice from A or B.
2). $300 Necklace (You choose which necklace)
3). Never Quit hat ($20 value)
4). Never Quit black shirt. (We choose shirt size for you)
5). 2nd Free Medal. (We choose for you)
6). Never Quit Decal (We choose the decal for you)
7). NEVER QUIT Bib
___________________________________________
NEVER QUIT Run/walk in your neighborhood, use a treadmill, go to a nearby park, track or participate in another race or climb a mountain.  You can compete against yourself—or with other running mates, family or friends—without paying for travel or hotels.  Run your race at your convenience and length (5k or longer) and still receive the official and exclusive NEVER QUIT finisher prizes in advance of your run.  
Customize your Runner's Bib so your can write who you will NEVER QUIT for. Remember, you may also want to consider giving one or more of the items you receive to a person you will NEVER QUIT for - It is the perfect "I will NEVER QUIT for you" love gift.      
Price includes shipping in the continental United States. Please email us a photo of you or your running group wearing your medallion to: neverquitvirtual@gmail.com
***No shipping outside of the Continental United States.
We will send to U.S. military bases anywhere in the world.
Please follow along with us on Facebook at NEVER QUIT NEVER and "Like" & "Share" our news. https://www.facebook.com/neverquitnever