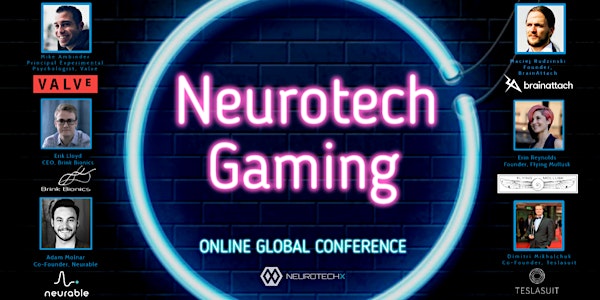 NeurotechGaming 2020 event: Connect your brain to video games
What if you could connect your brain & body to a video game? Join leaders from the gaming and neurotech industries. Organized by NeuroTechX
About this event
If you are interested in the NeurotechGaming or have any questions about the event, please contact Slava Bobrov.
YouTube streaming now:
"We're way closer to The Matrix than people realize" - Gabe Newell, Co-Founder of Valve. March 2020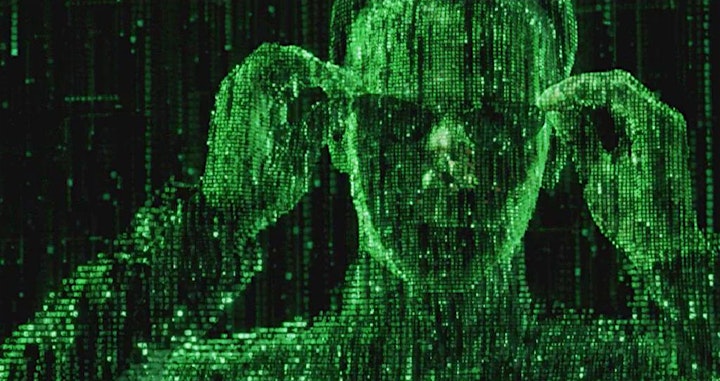 What if you could connect your brain and body to a video game?
Keyboard, mouse, game pad - these are the control devices we've used for decades to play games. But as useful as they are, they still have many limitations. A video game doesn't know if you are interested or bored with it, if you are learning or not, if we you are distracted or focused and you still need to remember complex key combinations.
To improve the gaming experience, companies shift their development towards Brain-Computer Interfaces. This technology allows to approach the next questions:
What if games could adapt its environment based on your thoughts and emotions?
What if you could communicate with your teammates using your brain and thoughts alone and act as one organism?
What if you could not only see and hear the gaming environment but also experience the tactile feelings like bullets shots or touching (think Ready Player One)
We all had experience with chat-bots that often feel very artificial. What if NPCs could understand how you feel and base their interactions on it, eventually becoming more real and human-like?
What if your enemies could learn from you and dynamically change their behavior to keep the gaming experience much more engaging?
And finally, what if you couldn't tell the difference between a reality and a game?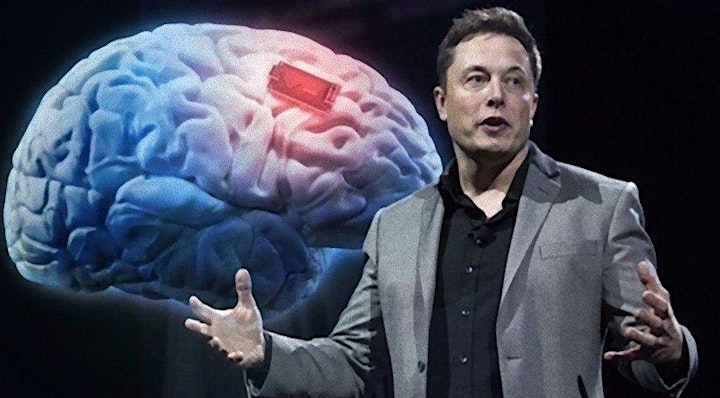 Brain-Computer Interfaces are already being actively used in the medical industry, scientific research and wellness applications. Elon Musk (Tesla, SpaceX) founded company called Neuralink which goal is to merge human brains with Artificial Intelligence. In the recent interview with Joe Rogan Musk predicted that we will reach the level of telepathic communication in the next 5-10 years (we recommend to watch the interview as he goes in details about how it will be done).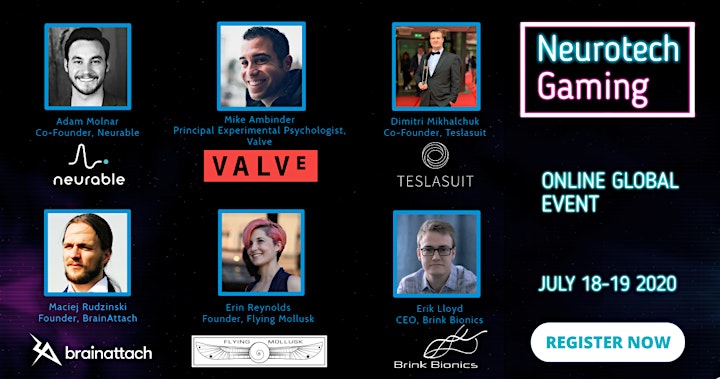 Day 1 (July 18, 5:00pm-6:30pm GMT)
Mike Ambinder - Principal Experimental Psychologist at Valve, the game company that created Counter-Strike, Half-Life, Steam, Dota 2
Maciej Rudzinski - CEO of BrainAttach, which develops a biotactical gameware Brain-Computer Interface for professional players
Dimitri Mikhalchuk - Co-Founder and Chief Revenue Officer at Teslasuit, which develops a full body haptic feedback suit
Day 2 (July 19, 5:00pm-6:30pm GMT)
Gamers, neurotech enthusiasts, game developers, neuroscientists, entrepreneurs and people who want to be one of the first to know about the next direction of the gaming industry.
And have a unique opportunity to participate in online Q&A session where you will be able to ask your questions to the speakers and chat with other people.
Here are some videos about the mentioned companies:
Gabe Newell on Valve and Brain-Computer Interfaces (starts at 10:50)
If you are interested in the NeurotechGaming or have any questions about the event, please contact Slava Bobrov.
In case if you want to find out more about Brain-Computer Interfaces and keep up with the news in this field we invite you to join NeuroTechX community. It has 4500+ people and the number continues to grow, especially over the last few months as the technology becomes more popular. In the community people from all over the world discuss the last news in the field of neuroscience and neurotechnology, share ideas, help with questions, organize meetings, form new groups, and startups... the list goes on! Welcome :)
Please share the link to the event, because a lot people will be interested to know about the next step for gaming and neurotechnologies