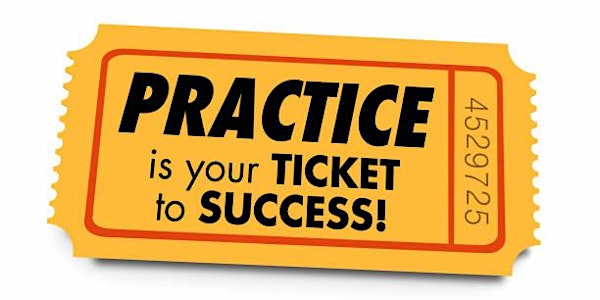 NETWORKING PRACTICE WORKSHOP: Marketing Yourself in Real Time with Goals!
Take Away Several Great TIPS & IDEAS PLUS Set Up Goals & Practice to Create YOUR Ideal Outcome for Networking Success in REAL TIME!
By Karrie Klimas, Time Mindset+Management Specialist
Date and time
Monday, March 27 · 4:30 - 7:30pm EDT
Location
Bar Rita 1401 South Andrews Avenue Fort Lauderdale, FL 33316
About this event
NETWORKING PRACTICE WORKSHOP:
Marketing Yourself in REAL TIME with Goals & Practice to Achieve Networking Success!
TRAINING AGENDA:
As your guide, we are treating 'networking' like a sport and setting you up for success!
4:30 - 5:30 PM |
We meet 1 hour BEFORE event STARTS and complete items below as a group . Supplies provided.
+ NETWORKING: Share Best & Worst Practices: Before, During & After an Event
+ SET UP NETWORKING GOALS: Complete a 'Networking Goals' Sheet: Define Your Ideal Client, Great Questions to Ask, Goals: # Potential Quality Clients & Contacts, Power Partners and Scheduled Appointments before the event ends, Other Opportunities & Services Needed
+ SHARE: 'Networking Goals' and network with each other
5:30 - 7 PM |
We network with attendees at the event with Biz to Biz Networking Group.
7 - 7:30 PM |
We reconnect, individually, approximately 30 mins BEFORE events ENDS to review above items, share feedback and acknowledge your success!
+ This is an experiential, interactive, informative, fun & 'live' in-person event.
+ Take away great tips and ideas plus learn how to set up realistic networking goals resulting in feeling more accomplished with greater clarity in achieving your goals!
+ Come with an open mind & attitude to create the ideal outcome!
NOTE: There is a separate event entry cost: $10 payable at the door (All forms accepted) Complimentary appetizers will be served.
WHEN: MONDAY, MARCH 27
WHERE: BAR RITA, 1401 S ANDREWS AVE, FT LAUDERDALE, FL
+ Free parking in lot and around the surrounding area.
MARK YOUR CALENDAR AND REGISTER NOW!
LIMIT 5 ATTENDEES | INVESTMENT $30
____________________________________________________________________________
+++ DO YOU HAVE A TEAM ? +++
HOST A NETWORKING PRACTICE WORKSHOP WITH YOUR TEAM AT A LOCAL OR VIRTUAL NETWORKING EVENT!
ATTENDEES: MIN 2 MAX 10
TIME: IN-PERSON: 3 Hours | VIRTUAL: 1.5 Hours
INVESTMENT: $40 PER PERSON | Supplies provided.
COUNTIES: Broward | Palm Beach | Miami-Dade | ALSO VIRTUAL
NOTE: A separate event entry fee may apply. If applicable, fee is paid by attendee.
I/We look forward to seeing you there!
Have a wonderful and productive week!
Karrie Klimas
Time Mindset & Management Specialist
https://GreatPartnershipSolutions.com
I'd love to hear from you!
M: 954-629-4945
EMAIL: Karrie@GreatPartnershipSolutions.com
CALENDAR: https://calendly.com/karrieklimasgps/30min
TIPS: YouTube.com/@karrieklimasgps
LinkedIn.com/in/karrie-klimas/
About the organizer
Walk away with great tips and ideas to market and grow you and your business more effectively.