Description
For many people, networking can be a stressful and onerous endeavor. For introverts and even some social extroverts, the thought of roaming around a sea of strangers only to find yourself with nothing to say can be frightening. But this doesn't have to be the case...

In this content-packed and inter-disciplinary workshop, attendees will learn the basics of networking and how to more effectively navigate business relationships as an introvert, ambivert or anyone who generally considers "networking" to be a dirty word.



Only 30 spots available.
At the end of this training, you will --
1. Understand your personality type to better manage your social stressors.
2. Develop greater direction and focus in your career.
3. Improve the way you communicate your work and network with others.
4. Learn practical tips to help you develop and continue professional relationships that can help you meet your goals.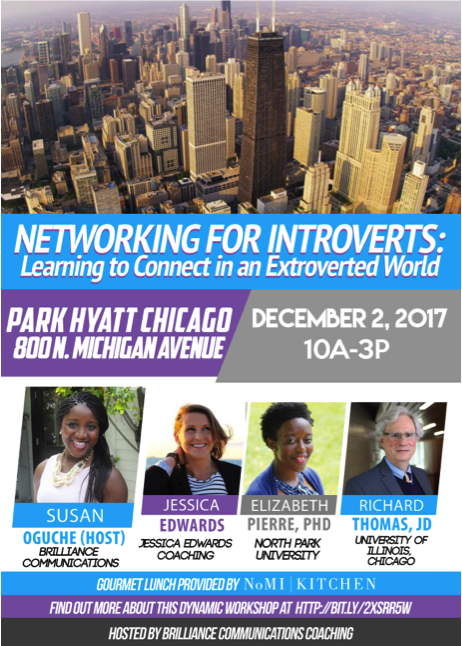 Speakers
Susan Oguche
Communications Expert and Founder of Brilliance Communications Coaching
"Communications Basics and Practical Tips for any Sticky Situation"

Jessica Edwards
Life Coach and Founder of Jessica Edwards Coaching
"Understanding your Career Potential and Busting the Roadblocks that Get in the Way."

Elizabeth Pierre, PhD
Assistant Professor in Pastoral Care & Counseling and Counseling Psychology at North Park Seminary and School of Professional Studies
"Let's Get Clinical: Defeating Shyness and Social Anxiety to become Authentically You"

Richard Thomas, JD
Assistant Professor and Teacher-Scholar at University of Illinois, Chicago
"Finding and Exploring Your Professional Voice"