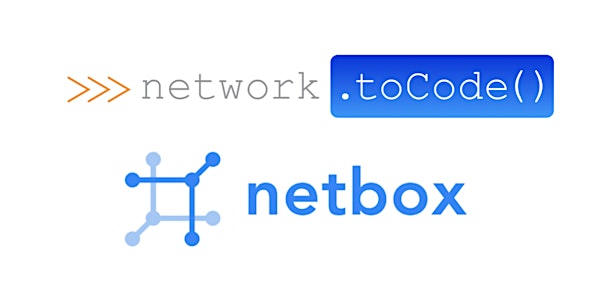 NetBox Day Presented by Network to Code
A virtual conference fully dedicated to the NetBox project featuring presentations from both the community and the maintainers.
About this event
For the past several years, NetBox, as an open source project, has been becoming the center of network automation projects around the globe. As a platform built to be the source of truth for multi-vendor and multi-domain networks, it is critical to understand the importance and role of data when embarking on a network automation journey. NetBox plays a key role in managing network data and the intended state of the network infrastructure. In the most recent NetBox survey, it was found that over 50% of respondents have been using NetBox for under a year while 40%+ of the respondents have been using NetBox for 2+ years. With the growth of NetBox and the overall community, Network to Code has partnered with the NetBox project to launch the very first NetBox Day!
NetBox Day will be a virtual conference fully dedicated to the NetBox project. You'll get to hear from the maintainers on NetBox itself, key features, and the roadmap and from active users on how they've used NetBox in production.
About Network to Code: Network to Code, LLC is a network automation solution provider that helps companies transform the way their networks are deployed, managed, and consumed on a day to day basis by leveraging network automation, software development, and DevOps technologies and principles through the use of professional services and training.
About NetBox: NetBox is a thriving open source project with over 6,000 stars on GitHub. It is a network source of truth application allowing users to document the desired state of their network infrastructure. NetBox is extremely extensible offering the ability for advanced features like templated webhooks, custom scripts, custom links, reports, and a new plugin system getting launched in April.
Agenda: The event will run from 10:30 AM ET - 3:00 PM ET.
10:30 AM Opening Remarks: Jason Edelman, Founder & CTO at Network to Code
10:35 AM Introduction / State of NetBox: Jeremy Stretch, Creator of NetBox and Senior Consultant at Network to Code, kicks things off with a brief recap of NetBox's history, highlights of recently added features, and a look at the roadmap for upcoming features.
10:50 AM Automating Network Configuration Backups: Jeremy Schulman, Network Automation Engineer at Major League Baseball, will cover how to create an automated network configuration backup system featuring NetBox as the inventory source-of-truth, Github as the repository for storage, and Ansible playbooks to execute the process.
11:10 AM Data Broker for NetBox - DHCP/DNS: Sajan Parikh will discuss utilizing the Netbox API and Webhooks to build a data broker to automate DNS records (forward/reverse), DHCP static entries, network monitoring with LibreNMS, and backups through Rancid.
11:40 AM Using NetBox to Automate the Mundane: Greg Grimes, Senior Network Analyst for Mississippi State University, will talk using NetBox, Nornir and Webhooks to automate VLAN changes.
12:20 PM Break
12:50 PM Fast Provisioning with NetBox and Ansible: Michael Schwartzkopff, IT Consultant, will go over setting up a NetBox environment users can provision their new servers themselves.
1:10 PM NetBox as the Source of Truth for Cisco NSO Configurations: Hank Preston, Principal Engineer at Cisco, will demonstrate how we can extract what NetBox "knows" about the network, and feed it to Cisco NSO to ensure that the correct configuration is actually applied. We'll look at an example of how this can be done and used in production to manage the DevNet Sandbox Network.
1:30 PM NetBox in a Cloud Native Environment: Moh Ahmed, Site Reliability Engineer at CENGN, will cover deploying the NetBox Docker image into a highly-available and distributed Kubernetes environment, leveraging the benefits of a cloud native environment as well as NetBox's mature feature set.
1:50 PM NetBox Extensibility Overview: John Anderson, Principal Consultant at Network to Code will give an overview of NetBox's many extensibility features, including, reports, custom scripts, and plugins.
2:30 PM NetBox Plugins Development: Damien Garros, Managing Director at Network to Code will walk through the different phases of NetBox Plugins Development and packaging based on an example project.