Description
Founders, executives, artificial intelligence & data experts - all in one place. Join our free Neoteric AI Talks to learn how to accelerate growth with artificial intelligence.
About this Event
We're happy to invite you to the first Neoteric AI Talks in Amsterdam!
Meet us on March 5 for your share of knowledge, inspiration, and a portion of great networking. Let's share experiences and learn about different aspects of accelerating growth with AI and network with AI practitioners and enthusiasts.
Join the event to:

meet top experts from the field of Artificial Intelligence & Data Science

learn how to drive business results using recommender systems

find out what to focus on when you implement an AI solution

explore the challenges of building predictive models

hear AI success stories of companies with a well-established data-driven culture

and figure out how to accelerate growth using artificial intelligence.
Meet our Speakers: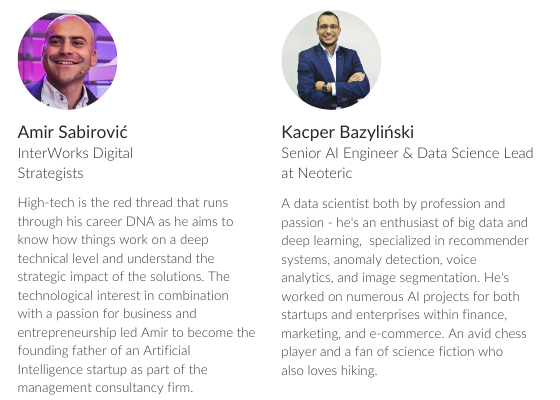 Agenda:
4:00 p.m. Registration & Networking
4:30 p.m. Kick-off & Presentation/Speech 1
5:00 p.m. Startup battle "Get in the ring", startup competition organized by the Unknown Group
5:30 p.m. Presentation/Speech 2
6:00 p.m. Summary & Networking
7:00 p.m. End of the Event

***
Admission to the event is free. Yet, we want to keep it cozy, so the number of seats is limited. Claim your reservation today and make sure you don't miss the event!
Have any questions? Message us at: ai-talks@neoteric.eu
By registering for this event, you accept the Neoteric AI Talks Terms and Conditions.