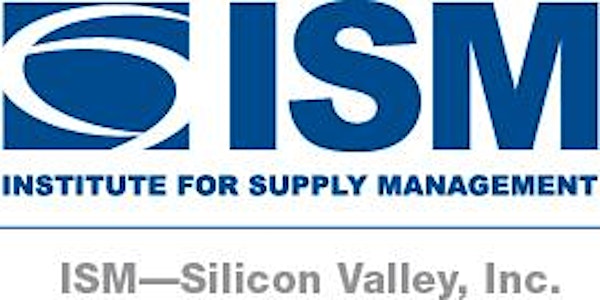 Negotiating Software Contracts: On Premises/Cloud > 7/28/20
Location
HYATT House - San Jose/Silicon Valley
75 Headquarters Dr
San Jose, CA 95134
Refund policy
Refunds up to 7 days before event
Eventbrite's fee is nonrefundable.
Description
A Professional Seminar Presented by: The Institute for Supply Management - Silicon Valley Inc.
TITLE: Negotiating Software Contracts: On the Premises and in the Cloud

DATE: July 28, 2020 | Tuesday: 7 Hour DAY SEMINAR
INSTRUCTOR: Leslie Marell, J.D., Business Attorney and Professional Speaker on Business and Contract Law www.linkedin.com/pub/leslie-marell/88/48/3b7
LOCATION: HYATT House - San Jose/Silicon Valley, 75 Headquarters Dr., San Jose, CA 95134
http://sanjosesiliconvalley.house.hyatt.com/en/hotel/home.html
START & END TIMES: 8:30 AM Start Time & 4:00 PM End Time
Fee: $649.
Seminar Fees includes: Complimentary Wi-Fi, healthy breakfast, lunch buffet, Starbucks coffee, TAZO teas, afternoon break, certificate of completion, seminar reference manuals and materials. Seminar materials are only available to those in attendance.
REGISTRATION URL: https://2020-07-28-20.eventbrite.com
SEMINAR OVERVIEW:
Software licensing transactions are more complex and more important than ever. The constantly evolving legal, regulatory and technical landscape drives the need to stay current in a wide variety of key areas. The ability to structure, draft and negotiate complex software license agreements is critical to a successful transaction. This seminar is designed to address the important legal and practical issues that arise in drafting and negotiating software licenses.
YOU WILL LEARN TO:
• Understand and analyze the legal and practical issues in software licenses
• Find hidden prohibitions on certain uses and other pitfalls in vendor form licenses
• Understand the issues in software licensing relating to "the cloud"
• Identify methods to protect intellectual property
• Minimize your risks and maximize your rights
• Ensure appropriate warranty support, maintenance, response times and software updates
• Negotiate software licenses that won't come back to haunt you
• Prepare for software license negotiations
• Feel more comfortable with the software license agreement drafting and negotiation process!
AGENDA
BASIC CONTRACT TERMINOLOGY
1) Damages: compensatory; incidental, consequential
2) Limitation of liability
3) License; Licensor; Licensee; Independent Contractor
4) Exclusive/ non-exclusive
5) Revocable/ irrevocable
6) Subsidiaries/ Affiliates/ Divisions
7) Source code/ Object code
8) Warranties: Express/ Implied
9) Disclaimers
INTELLECTUAL PROPERTY TYPES AND PROTECTION
1) The four key types of intellectual property law
a. Copyrights
i. What they protect
ii. Protection requirements
iii. When protection attaches
iv. Copyright holder's rights
b. Patents
i. What they protect
ii. Protection requirements
iii. Patent holder's rights
iv. Types of patents
c. Trade secrets
i. Definition : Confidential Information vs. Trade Secrets
ii. Examples
iii. Protection requirements
d. Trademarks
i. Definition
ii. What they protect
iii. Types
LICENSE ISSUES
1) Parties to the contract
a. Who is the licensor?
i. Representation and warranty that own IP
ii. Or rep and warrant have right to license IP rights
b. How is licensee defined
i. "Enterprise" Agreement
ii. Site License – location
iii. End User – seat or named
iv. Affiliates
v. Divisions
vi. Independent contractors
vii. Acquisitions
viii. Divestitures
2) Grant of License and Scope of Use
a. Do defined terms limit use?
b. Hosted in-house v cloud
i. Self-hosted
ii. SaaS
iii. PaaS
iv. IaaS
c. Other common restrictions
i. Perpetual v fixed term
ii. Exclusive v non-exclusive
iii. Worldwide v geographic restrictions
iv. Revocable v irrevocable
v. Field of use restrictions
vi. Source code v object code
3) Pricing and Payment terms
a. Up-front payment vs milestone payments
b. Installation – who does it?
c. Acceptance tests
d. Aggregate purchase discounts
e. Audits
f. Most favored customer
4) Warranties
a. Do the warranties match the vendor's proposal?
b. Are the minimum requirements to operate the software listed for hardware, operating systems, and other third-party software?
c. What warranties should be included?
i. Warranty that software interacts/ interfaces with your system
ii. Title
iii. Non-infringement
iv. Documentation/Operation according to performance specs
1. Defining your rights to use/ modify
2. Is the vendor obligated to update?
v. Date compliant
vi. Open Source
vii. Virus Free
viii. No disabling codes
ix. No Data Breach
d. The applicability of UCC warranties
i. Merchantability
ii. Fitness for a particular purpose
iii. Disclaimers
e. Length
f. Revenue recognition
g. Remedy
5) Maintenance
a. Mandatory?
b. What is included/excluded?
i. Bug fixes
ii. Patches
iii. Upgrades
iv. Future Releases
c. Types of Support
i. Telephone support
ii. In-person support
iii. Access to user system?
iv. Levels (Silver, Gold, Platinum)
d. Severity levels and service level response times
e. Service level agreements
f. Caps on increases
g. If you can cancel, can you reinstate? Reinstatement fees?
Remedies
6) Indemnification
a. Defend, Indemnify & Hold harmless
b. Who is protected?
c. What is included?
i. Type of Claim– infringement/alleged infringement
ii. When does indemnification start?
iii. Geographic Scope
iv. Type of IP - Patent/copyright/trade secrets/trademark
v. Any financial limitations?
d. Which versions of the software are covered?
e. Exclusions: Software operating with hardware/other software?
f. Remedies
g. Licensee indemnity?
7) Training
a. How much training is included?
b. Who needs to be trained?
c. Hidden charges
d. Scheduling
8) Consulting
a. Firm up fees
9) Assignment
a. Consent required?
b. When can licensee do without consent?
c. Issues in permitting vendor assignment
10) Source code escrow
a. How will the source code be used?
b. Drawbacks
11) Termination
a. Who can? When?
b. Licensee breach
c. Licensor's audit rights
12) Limitation of liability
a. Carve-outs
b. Reasonableness of the limit
13) Confidentiality
a. What should be protected?
b. Reasonable duration
c. What should be disclosed?
14) General
a. Entirety/ Order of precedence/exclusion
b. Survival
c. No waiver
d. Choice of law/venue
INSTRUCTOR:
Leslie Marell, J.D. brings to her clients over 25 years experience as both an in-house and outside legal advisor to small, medium and large businesses in the technology, computer products, electronics, manufacturing, medical/ health care, and services industries. She has advised hundreds of manufacturers and OEMs, contract manufacturers, distributors, and independent sales agents as well as purchasing, sales, IT and marketing organizations and professionals. The firm has extensive legal experience counseling companies in the areas of Business Contracts, Business Formation and Maintenance, Purchasing and Sales law, Computer and Technology law, Employment law and day to day legal matters.
https://www.linkedin.com/in/lesliemarell
REGISTRATION URL: https://2020-07-28-20.eventbrite.com
FAQs
What is the refund policy?
All cancellations, substitutions, and requests for refunds must be submitted via Eventbrite before the registration deadline of July 21, 2020. No refunds will be issued for cancellations received after July 21, 2020. Refunds will not be issued for no-shows.
Leslie S. Marell

Marell Law Firm

Attorney at Law