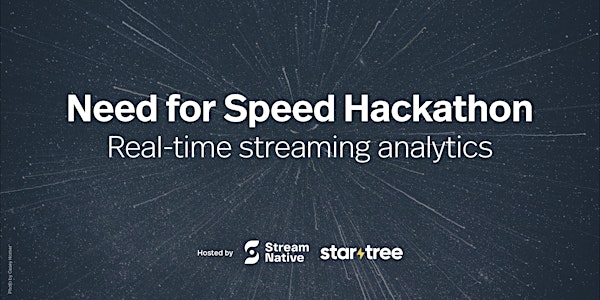 Need for Speed: Real-Time Streaming Analytics Hackathon 2022
StarTree and StreamNative are excited to present: Need for Speed: Real-Time Streaming Analytics Hackathon 2022.
About this event
This event will bring together the Apache Pinot and Apache Pulsar communities with other real-time streaming developers for an amazing half-day, in-person hacking event at the Hotel Nikko in San Francisco on Monday, August 15th.
You can bring friends or come alone, meet new people and join a team! The in-person event kicks off at 4PM PT.
Why You Should Participate:
Great opportunity to get back in-person and connect with two amazing open-source communities.
Flex your developer skills and learn from your peers.
Whether you're a newbie or expert, join us and showcase your creativity and skills!
Timeline (All times listed in PST):
Monday, August 15th - Registration Deadline and Hackathon Begins!
August 15th, 4:00-4:30 PM Registration, Live Kick-Off and Introductions
4:30-4:45 PM Repo Walkthrough
4:45-5:00 PM Initial Q&A
5:00 - 9:15 PM Hacking Time
Dinner
9:15 PM Demos Presented
9:45 PM Winners Announced
10:00 PM Wrap-up
Hackathon Categories:
To help inspire you, we've created six categories for this year's hackathon:
"From zero to hero" - Introduction Guide
Getting started apps, well-documented examples, the basics, building apps that help teach others.
"I have a stream" - Integration
Building unified Pinot+Pulsar applications, adding Spark or Flink to the mix, documented end-to-end streaming pipeline, FLiPP Stack with Pulsar and Pinot for Perfect applications, Pinot + Pulsar IoT application, etc.
Best Practices Pulsar
Enhancing Pulsar solutions with Pinot, expert architecting Pulsar messaging applications with Pinot data, Real-time ETL applications, and/or change data capture with Pulsar and Pinot.
Best Practices Pinot
Where to add Pulsar to existing Pinot applications, Pulsar to ingest into Pinot (P2P Flow), use cases that work with both, expert application segmentation between Pinot, Pulsar, and other components.
Pulsar/Pinot Flows
The art of the possible, cutting-edge applications, advanced data streams, machine learning enhanced real-time analytics, streaming sources into real-time dashboards, and more.
Bring Your Own Dataset
Develop processing solutions for new datasets utilizing Pinot, Pulsar, and more. Pulsar and Pinot Developer Advocates will help you turn raw data into instant continuous insights. Joint architecture and development sessions to build new real-time analytic products.
Prizes:
All participants will leave with Pinot, StarTree, Pulsar, and/or StreamNative swag. One top prize per category will be awarded, and individuals comprising the winning teams will be able to choose from an extensive swag table, including:
How to Participate:
Register! Every participant needs to register independently, but you can work in teams of no more than 4 members on the day of.
If you are looking for teammates, ideas, or just to connect with the community, we encourage you to join our Hackathon Slack channel: #need-for-speed-hackathon-2022
If you have questions during the hackathon, you can reach out to StreamNative, and StarTree, or post on the #need-for-speed-hackathon-2022 Slack channel.
Project Requirements:
You will be judged on three criteria: Innovation, Utility / Applicability, Difficulty
The three factors will be weighed equally. Remember to describe what you did for each criterion during the presentation.
Don't worry about having perfect code. Hacking is about playing around, making mistakes, and learning new things. If your code isn't production-ready, we're not going to mark you down.
You are not judged on the quality of your presentation, you are judged on what you built. Hacking is about building and learning, not about selling.
You are not required to open source your project in order to participate, but you do have to publish your code under an open source license in order to be eligible for the prizes.
Projects must include code that connects to Apache Pinot and Apache Pulsar.
Want to polish your Pulsar and Pinot skills? We have resources to help you ramp up:
Please contact StreamNative (events@streamnative.io) or StarTree (devrel@startree.ai) or join our Hackathon Slack channel: #need-for-speed-hackathon-2022 with any questions.
HAPPY HACKING!
Join us next at:
Hosted by StarTree | August 16th-17th
Hosted by StreamNative | August 18th