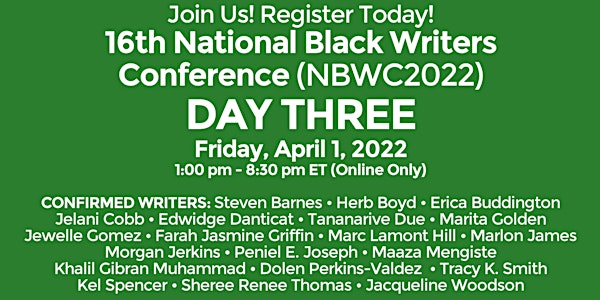 NBWC2022 Day Three (Roundtables and a Summit Keynote)
Three Roundtables and One Summit Keynote!
About this event
Day Three of the National Black Writers Conference is Friday, April 1, 2022. Enjoy three roundtable discussions and one summitt keynote.
Host: LINDAMICHELLE BARON, York College, CUNY
1:00 pm – 2:30 pm ET | Roundtable: "Between the World & Me: The Social Responsibility of the Black Writer" | Speakers: EDWIDGE DANTICAT, MARC LAMONT HILL, MORGAN JERKINS, and PENIEL E. JOSEPH | Moderator: MARK ANTHONY NEAL
3:00 pm – 4:30 pm ET | Roundtable: "The Souls of Black Folk: Telling Our Stories" | Speakers: JELANI COBB, MARLON JAMES, MAAZA MENGISTE, KHALIL GIBRAN MUHAMMAD, and DOLEN PERKINS-VALDEZ | Moderator: ERICA BUDDINGTON
5:00 pm – 6:30 pm ET | Roundtable: "Afrofuturism: Octavia Tried to Tell Us" | Speakers: STEVEN BARNES, TANANARIVE DUE, and SHEREE RENÉE THOMAS | Moderator: JEWELLE GOMEZ
7:00 pm – 8:30 pm ET | Summit Keynote featuring NBWC2022 Honorees HERB BOYD, TRACY K. SMITH, and JACQUELINE WOODSON with Guest Speaker MARITA GOLDEN | Moderator: FARAH JASMINE GRIFFIN
This program is subject to change. NBWC2022 is all virtual this year. All times are Eastern.
Media inquiries are directed to April R. Silver of AKILA WORKSONGS via pr@akilaworksongs.com or (718) 756-8501 (office). Visit www.CenterForBlackLiterature.org for more details.