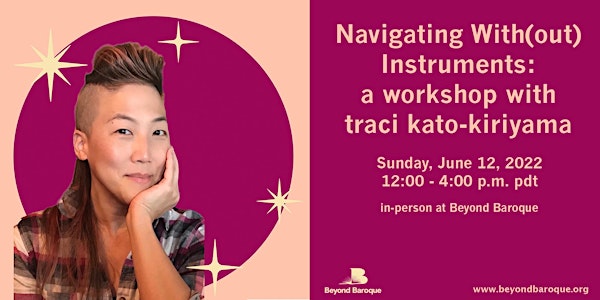 Navigating With(out) Instruments: a workshop with traci kato-kiriyama
Location
Beyond Baroque Literary Arts Center
681 Venice Blvd
Venice Beach
Los Angeles, CA 90291
an in-person intensive workshop which focuses on themes of memory, belonging, "Death Moments" and transformation with traci kato-kiriyama
About this event
How do we navigate through the many layers of our Self while trying to create? How do we write through our constant transformations that include processes of reckoning, relearning, excavation, healing? How do we honor our life experience(s) within the context of Other / the community / the world? Navigating With(out) Instruments is a collection of "poetry, micro essays, and notes to self" authored by multi-disciplinary artist, traci kato-kiriyama.
The NWI workshop will focus on: 1) themes of memory, belonging, "Death Moments" and transformation; and 2) the very real and difficult process behind any soul-baring, creative project - from a single poem to an entire collection of writing. traci will discuss some of her hard-earned process in developing NWI over many years, and offer prompts and exercises (from letters to dialogue to a "Table Of Contents") to stimulate and support the continuance of your writing and creative journey.
*One scholarship will be awarded to a QTPOC/BIPOC L.A.-residing individual who would like to join but does not have the means to do so. Please email us if interested at info@beyondbaroque.org
Workshop attendees are expected to participate in a respectful, constructive, and considerate manner. Beyond Baroque reserves the right to remove individuals from our workshops, virtual or otherwise, if they are not respecting the space, fellow participants, or facilitator.
About the facilitator:
traci kato-kiriyama (they+she) --based on unceded Tongva land in the south bay of Los Angeles-- is the author of Navigating With(out) Instruments, an award-winning multi-, inter- and transdisciplinary artist, recognized for their work as a writer/performer, theatre deviser, cultural producer, and community organizer. As a storyteller and Artivist, tkk is grounded in collaborative process, collective self-determination, and art+community as intrinsically tied and a critical means toward connection and healing. She is a performer & principal writer for PULLproject Ensemble, two-time NET recipient; NEFA 2021-22 finalist for their show TALES OF CLAMOR. tkk —presented for over 25 years in hundreds of venues throughout North America as a writer, actor, poet, speaker, guest lecturer, facilitator, Artist-in-Residence, and organizing / arts & culture consultant— has come to appreciate a wildly hybrid career (w/ presenters incl. LaMaMa Cabaret; Enwave Theatre; The Smithsonian; The Getty; Skirball Cultural Center; and Hammer Museum, to Zero Gravity; Grand Park; Whisky a Go Go; Hotel Cafe; House Of Blues Foundation Room; and countless universities, arts spaces, and community centers across the country). Their work is also featured in a wide swath of media and print publications (incl. NPR; PBS; Elle.com; Entropy; Chapparal Canyon Press; Tia Chucha Press; Bamboo Ridge Press; Heyday Books; Regent Press).