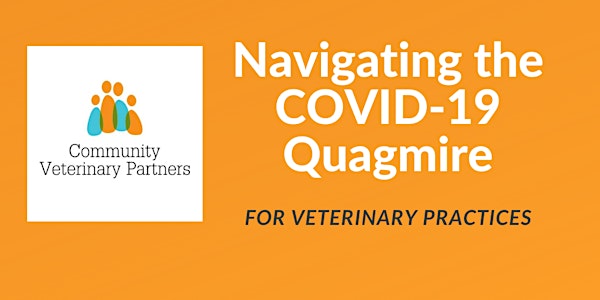 Navigating the COVID-19 Quagmire for Veterinary Practices
Leading veterinary attorneys provide valuable insight and advice to practice owners as they navigate the COVID-19 quagmire.
About this event
The COVID-19 pandemic continues to bring new levels of uncertainty to veterinary practices and navigating the complexities of protecting your staff while seeing patients and ensuring you are making sound business decisions can be daunting. Community Veterinary Partners is happy to partner with Harris Beach to bring Frank Muggia, leading veterinary practice attorney and President of the American Veterinary Medical Law Association and Scott Piper, a partner who regularly advises veterinary practices on labor and employment issues, to veterinary practice owners and industry partners to address ways veterinary practice owners can be compliant while navigating the COVID-19 quagmire, continue to see patients while protecting their teams and avoid potential missteps while taking advantage of the Federal Government's Paycheck Protection Program.
Frank Muggia, Partner, Harris Beach
Frank is a leading veterinary attorney and is nationally known in the field of veterinary law and ethics. As an attorney for Harris Beach, he has been involved in the buying and selling of veterinary practices nationwide, is well-versed in all aspects of veterinary practice law, and counsels small animal, equine, bovine and exotic animal practices. Frank is also the incoming President of the American Veterinary Medical Law Association.
Scott Piper, Attorney, Harris Beach
Scott brings extensive private practice and in-house counsel experience in all areas of labor and employment litigation to his client engagements. He represents employers in the wide range of labor and employment law matters, from intricate employment class action lawsuits to litigation involving all types of workplace disputes such as claims of unlawful termination, discrimination, harassment, and unpaid wages or benefits. Scott's practice includes preparing and negotiating separation packages and advising on contractual issues such as employment agreements and non-compete agreements.
CVP is a distributor of the information provided herein ("Content") which belongs to the provider of the Content. Except for information, products or services clearly identified as being supplied by CVP, CVP is not responsible for the accuracy, completeness or effectiveness of the Content, and disclaims any warranty to. It is the participant's responsibility to evaluate the accuracy, completeness and usefulness of the Content and information provided herein.