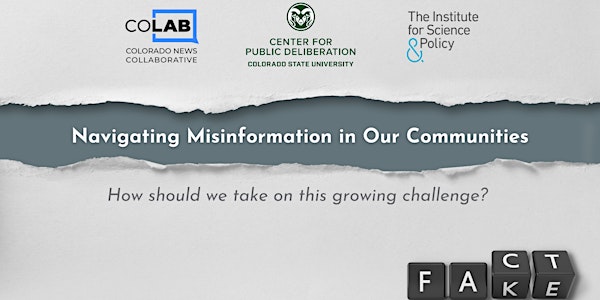 Navigating Misinformation in Our Communities
How should we tackle misinformation? What is the effect of disinformation on our communities, scientific information, trust and democracy?
When and where
Location
Denver Museum of Nature & Science 2001 Colorado Boulevard Denver, CO 80205
About this event
Join the Colorado News Collaborative, the Institute for Science & Policy and CSU Center for Public Deliberation for a two-part event series on how to tackle misinformation and to discuss the effect of disinformation on local communities, journalism, scientific information, trust and our democracy.
A key goal for this event is to tap into the wisdom and creativity of participants to help develop and refine ideas for communities across Colorado to better address this critical issue.
When:
Session I: June 14, 2022
Session II: June 28, 2022
Doors open at 5:00 p.m. and the program will begin at 5:30 p.m.
Where:
Denver Museum of Nature & Science
We hope that participants will see themselves as ambassadors and changemakers in their communities, and leave the events feeling inspired to co-create momentum around a set of community-driven recommendations addressing how the media and community members can confront misinformation and disinformation within Colorado.
In the first session, participants will discuss misinformation and its impacts across communities. In the second session, participants will deliberate ways to address misinformation and drive toward action.
There are a limited number of travel stipends for those traveling from outside of the metro area. Childcare support can be provided.
All attendees will receive a small thank you gift for participating.
This is an in-person event meant as a space for members of Colorado's communities of color to elevate their voices and share their perspectives. If you identify as belonging to a community of color — or you are an ally — we'd love for you to join us.
The event sessions will not be recorded.