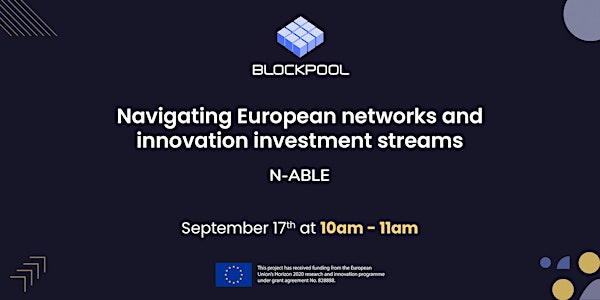 Navigating European networks and innovation investment streams
This presentation is part of the Blockpool online Bootcamp on September 17 -18, 2020.
About this event
The European Union (EU) landscape is complex and made of various funding and financing streams as well as channels to access them. These channels are used for match-making (incentivizing collaboration across actors of the European Union ecosystem) and as a source of knowledge and expertise to feedback into the European policy landscape.
This presentation focuses on business support to innovative businesses, close-to-market innovation, and the deployment of new technologies and solutions. While one could think that all of EU support to innovation is channeled through Horizon2020 (and its subsequent Horizon Europe) Framework Programme, a broad set of entities actually act in the benefit of European Companies. Several commonalities can be observed such as the dominant requirement for cross-national collaboration (often implying that a project carried out by a company should involve partners from a minimum of two other EU Member States).
One critical aspect is one of the networks: while intermediaries (such as European Federations, Associations, clusters, etc.) provide representation for given target groups in certain economic and/or technological areas, European networks presented in this presentation are initiated, managed, or supported by European institutions themselves. They are considered a way to make projects and project holders visible and help them access the best capabilities across the Union. However, not all funding and financing sources are (or ought to be) European or international ones. This presentation aims to:
Identify key networks and scope their role and possible contribution to a business innovation funding and financing strategy.
Offer insights on how to assess and balance various public support opportunities that can be made of funding and financing but also non-cash support; and may be found at the European but also international, national, and regional levels.
Bootcamp agenda
Tap on the links for more information about other events within the framework of the Blockpool Bootcamp: https://bit.ly/338Dwn9
Details
Location: Zoom (access data will be emailed shortly before the start of the event)
Language: English
Registration required via Eventbrite; dial-in via zoom (installation required); maximum number of participants: 300.
Disclaimer: This project has received funding from the European Union's Horizon 2020 research and innovation programme under grant agreement No 828888.