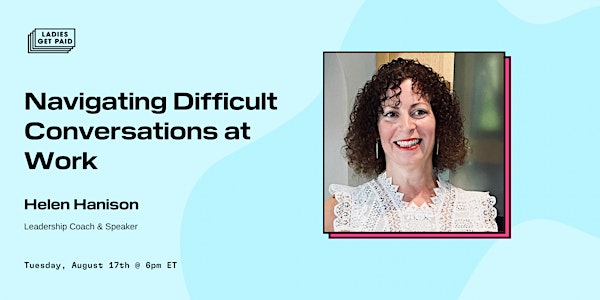 Navigating Difficult Conversations at Work
Learn the 10 successful steps to discussing what matters most (even when that's a little bit scary!).
Refund Policy
Contact the organizer to request a refund.
Eventbrite's fee is nonrefundable.
About this event
**This event will be recorded**
Finding a way to conduct contentious conversations is a skill every successful woman needs to master, even - or perhaps especially - when that's hard. We recognise when issues are important in our career context, but are sometimes surprised that they feel as emotive as they do. I understand that. We are all more than the work we do but a violation of values or threat to our self-perception will feel personal, pivotal and sometimes powerful enough to silence us. And given difficult dynamics are just as likely to show up in long-established working relationships as in new ones - handling career conflict can be as ongoing as your career!
Please be more afraid of the conversations you aren't having than those move into with a little fear.
Join Helen Hanison, a leadership coach, if you want to learn how to handle career conflict (even when that's a bit scary) and hear the secret that will change how you go into conflicts - and your results coming out of them - forever.
Takeaways include:
The power of a private If-Then Policy
How to use curiosity as a tactic
Ten steps to handling career conflict well/successfully
Plus the secret ingredient that will change your conflicts (and their outcomes) forever
About Helen:
Helen Hanison is a leadership coach, writer and speaker based in the UK. A former director for some of the worlds' largest PR companies, Helen helps people who are at a career crossroads make a fresh plan realigning work they love with what matters most so they can stop the cycle of trying to solve their career problem on their own and finally make aligned, confident transformation happen instead. You can learn more - and are invited to sign up for Helen's free career crossroads newsletter (featuring actionable articles and resources designed to help you redesign your career) at her website: www.helenhanison.com