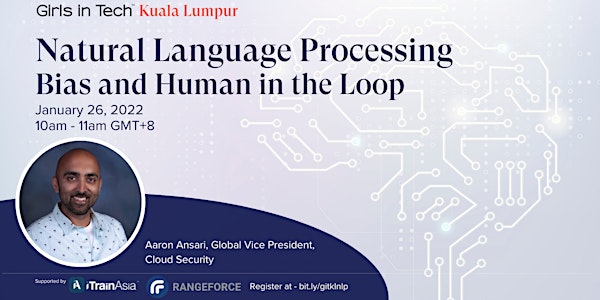 Natural Language Processing - Bias and Human in the Loop
This talk will highlight the evolution of NLP to its current iteration, and demonstrate several AIs
About this event
Agenda
Introduction of Aaron
Introduction to NLP & NLP AI
Applications of NLP in Enterprise
Bias and Human in the loop
Mantium application demo
Conclusion & Questions
Abstract
Natural Language Processing (NLP) is a subset of Artificial Intelligence (AI). This talk will highlight the evolution of NLP to it's current iteration, and demonstrate several AIs such as Eleuther and Co:Here (powered by GPT-J and GPT-3) as well as OpenAI. We will then discuss the flaws in NLP and the biases which are a part of their systems. To correct this, temperature and human-in-the-loop are mandatory for fine tuning and improvement.
Lastly, we'll tie it all together with a demonstration of the Mantium "AI Middleware layer" and showcase how to get free accounts to test on your own.
MEET OUR SPEAKER
Aaron Ansari - Global Vice President, Cloud Security
Aaron brings over a decade of knowledge as a security practitioner in the Financial Services vertical.  Earlier in his career, Aaron served as the Chief Security Architect at BMW financial services overseeing the development and application of security policy standards and guidelines. He also held roles at JPMC, Cardinal Health and Huntington Banks, focusing on application security management, intrusion detections and compliance.
For more than a decade, Aaron taught in the CIS and MIS departments at Franklin University. Aaron also has an active family life & spends much time with his two kids & wife. They reside in Dublin, Ohio and volunteers as a board member for various non-profits. Aaron has completed several triathlons, as well as many marathons, and other runs - endurance sports are a passion of his and he'll talk your ear off about them if you let him.
PRE-EVENT INFORMATION
Requirements
Please create a LinkedIn account for joining the livestream webinar.
ABOUT GIRLS IN TECH
Founded in 2007 by Adriana Gascoigne, Girls in Tech is a nonprofit organization dedicated to eliminating the gender gap in tech. We have more than 60,000 members in 50+ chapters around the world.
Girls in Tech started with an idea: There is a strong, smart and outspoken girl within all of us. We exist to make sure that girl is heard. Because when every voice, every perspective, every personality is honored and respected, we do better work and live richer lives. At Girls in Tech, we are passionate about inclusivity, because we know that tech today requires people of all skills and backgrounds. Whether you're a data analyst, a creative, a strategist, an entrepreneur or a coder, you are needed.
JOIN US!
Interested in joining our community? Let's join forces! Click this link to become a member.
As a member, you'll have access to in-person and virtual events and workshops designed to help you grow professionally and personally. Plus, find a mentor, build meaningful relationships, and take advantage of our opportunities to find a job that's right for you.