Description
Join Us in Chicago for the NAPW Power Networking Event!
presented by

FREE to all NAPW Members!! Pre-Registration is Required!! Bring your business cards!!
Discover the Power of Connection! Come to the NAPW Power Networking Event where you'll make connections with like-minded professional women who share your same passion to Aspire, Connect, and Achieve!
EVENT HIGHLIGHTS:
Connect with NAPW Members and meet professional women in a varity of industries
Free VIP Member Showcase*
"Photos for Philanthropy" – For $20, take a professional photo with Star. All proceeds benefit the NAPW Foundation.
Free Food and Hospitality
Power Networking and Meetups
Raffle / Giveaways
Be inspired by "The Power of One"! Listen as NAPW President Star Jones conducts one-on-one interviews with Denise Hansard, Life Architect & Motivational Speaker and Diane Latiker, Founder of Chicago's own Kids Off The Block (KOB). Don't miss this oppourtunity to make powerful connections that will energize your network!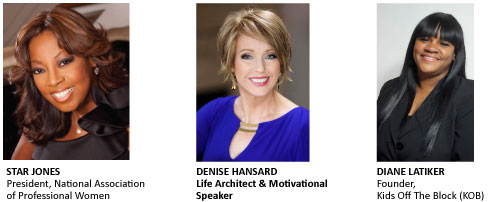 *For more information on the VIP Member Showcase, please contact Sonya Sellers at ssellers@napw.com.
#NAPW2016PNE #WomenNetworking #Professional #Business
---
Chicago Career Fair
Arrive early for the Diversity Career Fair hosted by the Professional Diversity Network at 11am CDT. Registration is free for job seekers. RSVP now to attend.
---