Ben and Nancy of the Rivergods will be joined by Steve Elci !
About this event
Passion! Harmonies! Singer songwriters!
Passion! Harmonies! Singer songwriters!
Husband and wife Ben and Nancy Parent are known as lead members of The Rivergods, an original Americana roots band. They have played original, heartfelt, rich music throughout southern New England since 1997. Lush harmonies and individual songwriting styles anchor their music. The Rivergods have released seven albums since 2000, and Nancy has released a solo album, "Vision of Angels."
For this show, Nancy and Ben will focus on material they have written over the past two years during the pandemic, with some older favorites sprinkled in. Joining them will be longtime friend, collaborator and occasional songwriting partner Steve Elci on percussion and vocals.
Click to see a recent performance of the trio at the "Don't Pass the Guitar" fundraiser for the homeless center in New London.
Covid precautions: Proof of vaccination (or a recent test) and masks are required, and, sadly, our famous refreshments will not be served. Bring a water bottle!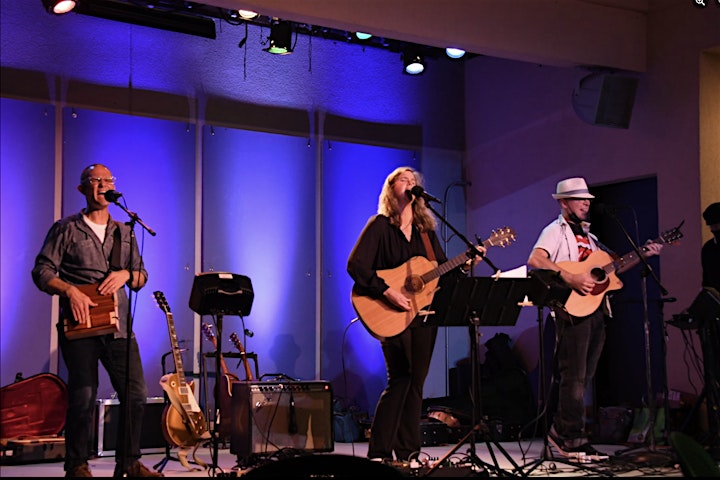 Organizer of Nancy and Ben Parent perform December 10th in New London!
The mission of Friday Night Folk at All Souls is to joyfully support social and environmental justice by bringing live traditional, contemporary and multicultural folk music to the larger community in a welcoming and accessible performance space.
In 1989, Friday Night Folk concerts began bringing quality folk music and performers to at All Souls Unitarian Universalist Congregation in New London, CT. Folk music fans from all over New England have enjoyed the music of artists including Richard Shindell, John Gorka, Patty Larkin, Geoff Kaufman, Kim and Reggie Harris, Utah Philips, Cheryl Wheeler, Gordon Bok, Bill Staines, Bill Morrissey, Vance Gilbert, Aztec Two-Step, Ida Red, Work o' the Weavers, The Burns Sisters, Sarah Lee Guthrie and Johnny Irion, John Flynn and John Wort Hannam, and emma's revolution,

Join us for a lively evening of true folk music – traditional and new!