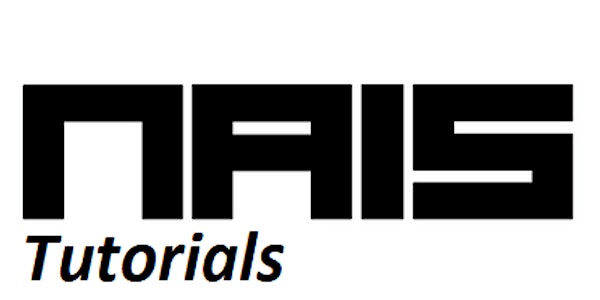 NAIS 2022 Tutorials
Registration for tutorials co-located with the NAIS Symposium 2022 (https://aisociety.no/nais2022/)
When and where
Location
Pilestredet 35 35 Pilestredet 0166 Sentrum Norway
About this event
We welcome physical and virtual participation in the 3 co-located tutorials, which will take place before and after the conference main program. For more information: https://aisociety.no/nais2022/#cft
Search Algorithms in AI with Python (Tuesday, 31 May @09:00-12:00)
Goal! A practical guide to soccer video understanding (Wednesday, 1 June @13:00-16:00)
The past, present, and future of XAI (Wednesday, 1 June @14:00-15:00)
You can contact cise@simula.no for questions and comments.
Search Algorithms in AI with Python
Rashmi Gupta (UiA) and Morten Goodwin (UiA)
Date: Tuesday, 31 May @09:00-12:00
Duration: 3 hours
In artificial intelligence (AI) and computer science in general, search is a step-by-step process of solving a problem following a particular search space. When it comes to problem-solving, AI is highly dependent on search algorithms, such as finding the most suitable solution from a human-like virtual assistant, finding the most convenient route from self-driving cars, or the most promising move in a chess game. Search algorithms are the building blocks of AI evolving with this futuristic technology and are relevant to the topics of interest in the Norwegian AI Symposium (NAIS 2022). We strongly believe learning search algorithms with python could provide additional value to the Norwegian AI community and early-stage researchers.
This tutorial covers classical uninformed (blind) searching algorithms in AI such as breadth-first search, uniform cost search, depth-first search, iterative deepening depth-first search, bidirectional search, and informed (heuristic) searching algorithms in AI such as best-first search and A* search. We consider finding the solutions for real-world problems (i.e., specific to each search algorithm) by implementing these search algorithms in python, which we believe will provide better technical support to target attendees. We propose to spend this three-hour tutorial. In the first hour for the coverage of uninformed searching algorithms, organize a minor in-class assignment of 15 minutes in duration. We then cover informed searching algorithms in one hour, followed by a small assignment on informed search algorithms of 15 minutes. We wrap up the tutorial with the source material and other valuable information or discussion.
This tutorial targets Bachelor's/Master's level computer science students with an introductory/intermediate level of any programming language knowledge (presenter will use python in tutorial).
Goal! A practical guide to soccer video understanding
Anthony Cioppa (ULiège), Silvio Giancola (KAUST), Adrien Deliège (ULiège), Floriane Magera (EVS Broadcast Equipment and ULiège), Vladimir Somers (UCLouvain, EPFL, and SportRadar), Le Kang (Baidu Research), Xin Zhou (Baidu Research), Bernard Ghanem (KAUST), and Marc Van Droogenbroeck (ULiège)
Date: Wednesday, 1 June @13:00-16:00
Duration: 3 hours
The SoccerNet dataset released in 2018 marked the start of large-scale soccer analysis in academia, gathering a growing research community which now expands to the industry. Broadcast soccer video understanding is an attractive topic for graduate students with many potential applications, like highlights composition and statistics generation. Besides, it encompasses natural yet challenging tasks for computer vision professionals, such as action spotting, camera calibration, player re-identification and tracking. It also comes with specific difficulties to handle fast-paced actions, players of similar appearance and replays through various camera views. All these aspects make soccer a rich yet often overlooked playground for research.
This tutorial focuses on the practical side of building soccer video understanding pipelines: which data is available, how to annotate it, how to use it, which useful tasks can be defined, tackled, and assessed, and which challenges keep the community and industries busy. Demos with Python code will be presented step-by-step to cover a large panel of soccer-related tasks. The instructors and presenters of the tutorial are experienced scientists from academia and industry that lead the soccer research community and develop cutting-edge technologies for sports broadcasts.
This tutorial is tailored for computer vision master students and their professors seeking computer vision classes or thesis projects, for PhD candidates focusing on spatio-temporal aspects of video analysis, for researchers and industrials willing to apply AI techniques within sports broadcasts, and for any soccer enthusiast. The download information of the SoccerNet dataset indicates that all those types of profiles regularly use the dataset. The tutorial assumes basic knowledge of Python and neural networks. Upon completion of the tutorial, attendees will have at hand various pipelines to tackle tasks such as action spotting, player tracking, player re-identification, camera calibration, that they can use not only in soccer-related projects but also transfer to their own research. All the material produced within the tutorial will be made available online.
The past, present, and future of XAI
Kristoffer Wickstrøm (UiT)
Date: Wednesday, 1 June @14:00-15:00
Duration: 45 minutes
Deep learning is the main component in contemporary artificial intelligence algorithms, which have seen major improvements in fields such as computer vision and natural language processing. However, deep learning lacks explainability, which limits its usability in fields such as finance and medicine where trustworthiness is of high importance. Explainable artificial intelligence (XAI) aims at making deep learning more transparent and reliable, and has made great improvements over the last couple of years. Being familiar with XAI methodology can be advantageous for both machine learning researchers and more applied researchers, and a tutorial on XAI would therefore be of great use for the Norwegian AI community.
The tutorial will start with an introduction to the field of XAI and a presentation of a selection of explainability algorithms. Then, we will discuss some common pitfalls and challenges with current XAI, before moving on to discussing what makes an explanation good and where the field will go in the future.
The tutorial targets machine learning researchers with intermediate knowledge of XAI.