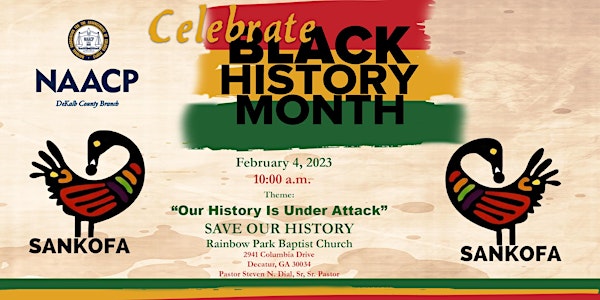 NAACP DeKalb - Black History Month Program
NAACP DeKalb 2023 Black History Month Program
When and where
Location
Rainbow Park Baptist Church 2941 Columbia Drive Decatur, GA 30034
About this event
The NAACP DeKalb Branch is pleased to host a Black History Month Program on February 4, 2023, at 10:00 AM. This event is FREE to the public, and all are invited to attend. The theme is OUR HISTORY IS UNDER ATTACK - SAVE OUR HISTORY!
It is a panel discussion with legislatures, educators, administrators, parents, and students. It is about understanding the impact that the new GA House Bill 1084 and Senate Bill 370 have on our students learning Black History. They are trying to restrict teaching of Black History to our children. Come and find out what you need to know to save our history.
This year's event will be held at Rainbow Park Baptist Church 2941 Columbia Drive, Decatur GA with Rev. Steven N. Dial, Sr. as the Senior Pastor. To attend you MUST register online at www.naacpdekalb.org. For more information or to volunteer and support the branch contact Attorney Dee Smith, Remembrance Project Chair, at (404) 241-8006 or info@naacpdekalb.org.