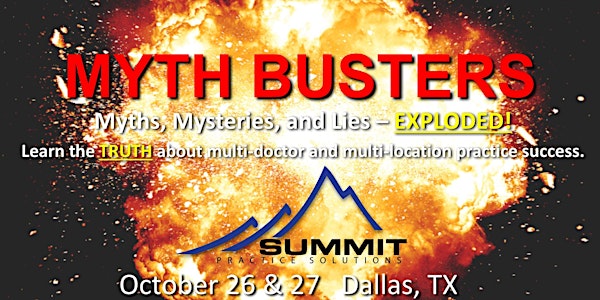 Myth Busters
By Summit Practice Solutions
Date and time
October 26, 2018 · 1pm - October 27, 2018 · 12pm EDT
Location
Allen Bible Church 109 North Greenville Avenue Allen, TX 75002
Description
MYTH BUSTER
Fri, Oct. 26 (1:00 PM to 4:00 PM)
and
Sat. Oct. 27 (9:00 AM to 12:00 PM)
"Although many sole providers have complained about DSO practices, they have done little to change their own business practices. Actions speak louder than words."
While I don't remember where or when I read this, I certainly believe it to be true for the vast majority of dentists in solo practice today. Join Dr. Mike Abernathy and the Summit Practice Solutions team on the last Friday and Saturday in October as we explore the numerous pitfalls faced by solo dentists and provide real-world strategies and solutions for dealing with owning and managing a thriving dental businessin this era of rising competition and stress. It absolutely is still possible to consistently grow and prosper in Dentistry. Come and learn how! We will explore the secrets of:
The things that every dentist should have already learned from successful corporate dental practices.

Where does dental demand actually come from?

The when, where, and how of adding additional doctors.

The pros and cons of adding additional locations and multiple practices.

Managing overhead in a growing practice with more employees.

How to onboard the new doctor(s) while building a solid culture for growth.

The pitfalls, fallacies, and myths of a DSO or small group practice.

The facts about sustainable growth in an ever-changing dental landscape.

Why the solo practice will soon be soon be a distant memory from the past.

Supply and Demand economics in the dental field and the reality of the facts and trends for the Future of Dentistry.

The 6 cards stacked against success in an average dental practice.

And much, much more (too much to list).
SPEAKER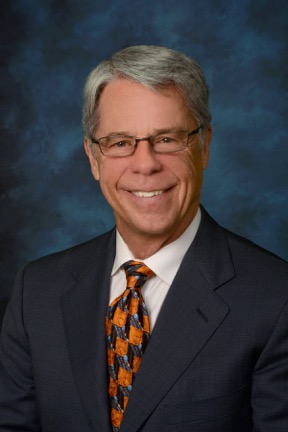 Michael Abernathy, DDS
Since retiring from practice, Dr. Mike Abernathy has been in high demand as a consultant, lecturer, trainer, author and educator to the dental profession. He has spoken to dental groups in 40 states and several countries on clinical and practice management topics. Mike is anxious to share his expertise and passion with doctors and teams desiring to take their practice to new levels of success.
Recommended Airports approximately 40 minutes from venue:
Dallas/Fort Worth International Airport
Dallas Love Field
Recommended Hotels with easy access to shopping and Restaurants:
Courtyard Marriott at 210 E. Stacy Rd. Allen, TX 75002 - 214-383-1151
Hampton Inn & Suites at 830 Stacy Rd. Allen, TX 75013 - 214-495-7667
DON'T MISS THIS UNIQUE EVENT – REGISTER TODAY!
About the organizer
Summit Practice Solutions has been delivering solid buisness systems to practice across the Nation and Canada since 1991.  Modeling their practice after Dr. Mike Abernathy, "The 6-Million-Dollar Dentist", they have helped countless doctors to find their way throught turbulent economic times to lasting success.