Event Information
Location
Wheaton College- Billy Graham Center for Evangelism
Barrow's Auditorium
501 College Avenue
Wheaton, IL 60187-5501
Description
My Utmost: A Century of Devotion
The Life and Legacy of Oswald Chambers
Barrows Auditorium, Wheaton College
Friday, October 20, 1 p.m.
Words spoken more than 100 years ago are still calling hearts closer to Christ today. Oswald Chambers's messages cut to the heart of the gospel, and his devoted wife, Biddy, recorded his words in shorthand, giving them to the world in print after his death. As a believer who appreciates Chambers's words from books like My Utmost for His Highest, you won't want to miss this exciting one-day event at Wheaton College, honoring his life and legacy.
Join us Friday, October 20, at 1 p.m. in Barrows Auditorium on the campus of Wheaton College for a full afternoon exploring the life and passion of Oswald Chambers. Get an in-depth look at the man who was many things—artist, musician, world traveler, mentor, friend—but most importantly, he was completely sold out for his Savior. Enjoy interesting speakers, live music, and a panel discussion, plus look at his original works and visit with others who enjoy the writings of Chambers as much as you do.
Mark your calendar, and we'll see you on October 20 as we celebrate a century of devotion!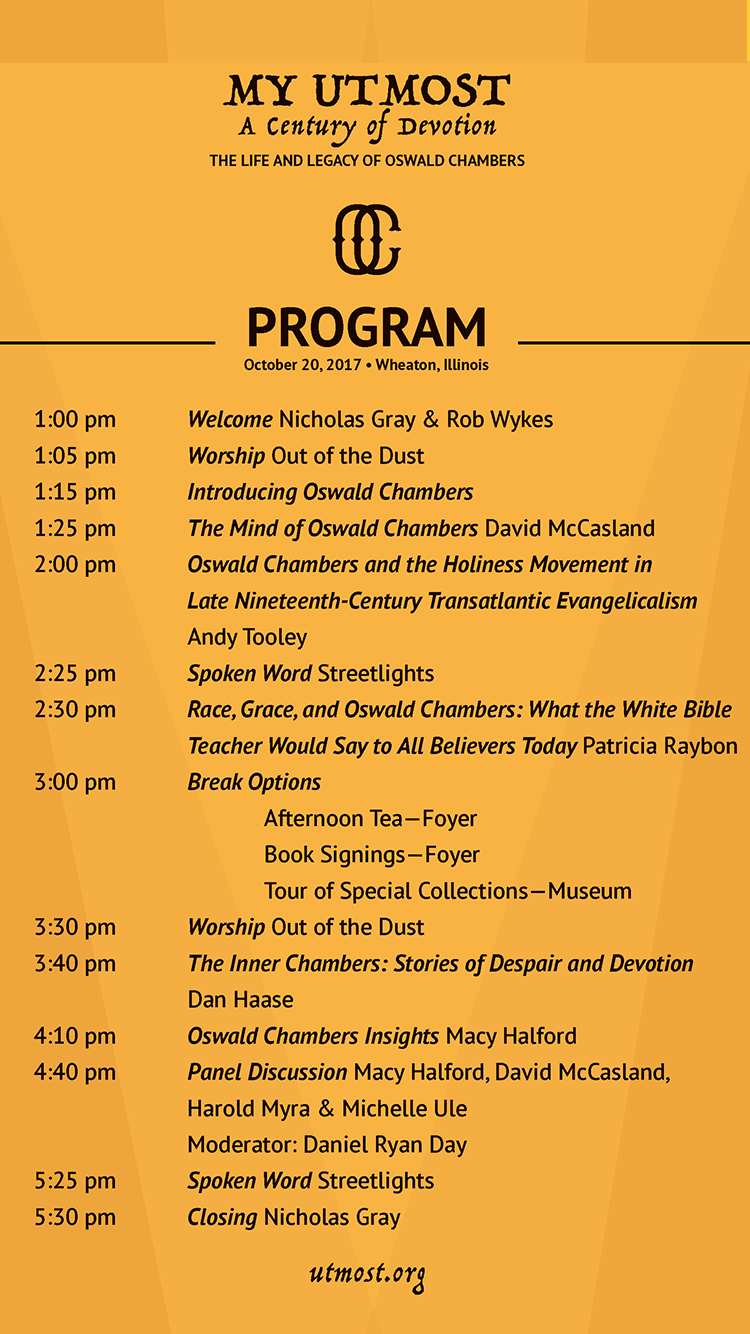 Featuring:
Daniel Ryan Day is an author, speaker, blogger, and fellow believer who spent quite a few years trying to figure out God's call on his life. It was his own search that led him to discover that God reveals every Christian's broader calling within the pages of Scripture.
Nicholas Gray is past president and He is a consultant at R. L. Allan & Son Publishers, Limited, and has worked in the publishing industry his entire career.
Dan Haase is an instructor of Christian formation and ministry at Wheaton College, where he's lived since 2000. Besides teaching college students, he home-schooled his two sons for a decade. His vision for teaching and learning is "love to learn; learn to love."
Macy Halford was on the editorial staff of The New Yorker magazine for eight years and wrote and edited the online book review. She currently lives in France where she teaches English at Sciences Po University and freelances as a reviewer and translator. Her book My Utmost: A Devotional Memoir released earlier this year to positive reviews.
David McCasland is a contributor to Our Daily Bread and the author of both Eric Liddell: Pure Gold and Oswald Chambers: Abandoned to God, which won the Evangelical Christian Publishers Association Gold Medallion for biography.
Harold Myra is an award-winning editor, author, and publishing executive. He served as the CEO of Christianity Today International for 32 years, and also taught writing and publishing at the Wheaton College Graduate School.
Out of the Dust is the husband-and-wife duo of Chris and Stephanie Teague. Their amazing story of marriage, divorce, and remarriage carries a message of restoration that is artistically delivered in their music—a mix of indie, folk, and pop styles.
Patricia Raybon is an award-winning author who tackles tough topics like race, personal healing, spiritual struggle, and family issues with the goal of leading God's people to love. She's a former journalist and professor who continues to speak and teach around the country.
Andy Tooley is the visiting assistant professor of theology and the history of Christianity at Wheaton College. Andy's expertise is in the intersection of history, culture, and theology. He writes, researches, and teaches at Wheaton.
Michelle Ule is an author who writes inspirational and historical fiction. She's also a speaker, teacher, Bible study leader, and amateur genealogist who has researched Oswald and Biddy Chambers. Her biography Mrs. Oswald Chambers releases October 2017.
Streetlights is a Chicago-based non-profit that uses audio, video, and curriculum tools to communicate Scripture in a relevant format. The three-person team, along with many talented media professionals, has a passion to engage youth of low reading levels with God's transforming Word.
Rob Wykes is a board member of OCPAL, the Oswald Chambers Publications Association Ltd. (full biography coming soon)

Date and time
Location
Wheaton College- Billy Graham Center for Evangelism
Barrow's Auditorium
501 College Avenue
Wheaton, IL 60187-5501
Organizer of My Utmost: A Century of Devotion
Our Daily Bread Ministries helps millions of people connect with God each day. For more than 75 years, our purpose has remained the same: to reach people with the life-changing wisdom of the Bible. We're a non-denominational, non-profit organization with staff and volunteers in 37 offices working together to distribute more than 60 million resources in 150 countries.
Our mission is to make the life-changing wisdom of the Bible understandable and accessible to all. Our vision is to see people of all nations experiencing a personal relationship with Christ, growing to be more like Him, and serving in a local body of His family.
At Our Daily Bread Ministries we trust in God above all else, and rely on His wisdom and strength to guide our ministry. The Bible is our foundation. We recognize the opportunity we've been given to share His Word, and are committed to being faithful stewards of the resources entrusted to us. Learn more.