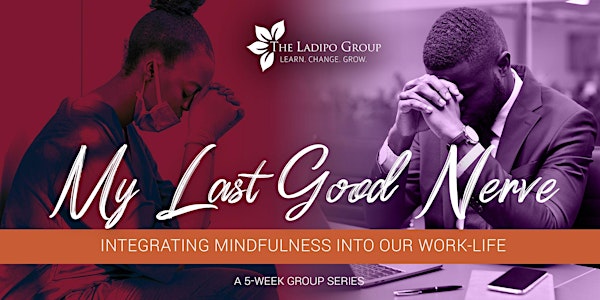 My Last Good Nerve: Integrating Mindfulness into Our Work-Life
Individuals who are experiencing consistent work related stress
Refund Policy
Contact the organizer to request a refund.
About this event
Individuals who are experiencing consistent work related stress which may appear as increased anxiety, depression, anger and other uncomfortable emotions. This group is intended for people who are at the beginning or in the middle of their careers. This group is preferably for the BIPOC community. (Frontline Workers highly preferred).
Far too often we go through our work week without taking the time to "check-in" with ourselves. Whether it's our busy schedules or being a frontline worker, sometimes the stress is inevitable and overwhelming. However, this group series aims to help participants manage work-related stress by using mindfulness. These techniques can support participants by efficiently and effectively managing their work-related stress while changing their relationship to stressful situations specifically within the workplace. The techniques learned in this group will be practical, immediate and above all easy to implement following the conclusion of the group series and can be generalized to other areas of one's life. Stress can kill and we must find simplistic ways to reduce it.
Guidelines for Workshop
• Find a quiet space with few distractions (e.g. a room, car, porch)
• Use headphones to reduce background noise
• Turn off phone and computer notifications for the next hour
• Close other tabs on computer
• Keep an open mind and be willing to try new things
• Have video on so that the group can see each other
Group begins Wednesday, February 2, 2022. Register here and join via Google Meets
Registration Fee: $50.00 (covers total series price, $10 per group meeting)
Wednesdays at 5:00pm-6:00pm (Weekly) - Facilitator: Kevin Hubbard, M.Ed., LPC, CMIP.
(5 Week Series)
Important Notes
Please save the following dates:
Wednesday, February 2, 2022 5:00 PM-6:00 PM
Wednesday, February 9, 2022 5:00 PM-6:00 PM
Wednesday, February 16, 2022 5:00 PM-6:00 PM
Wednesday, February 23, 2022 5:00 PM-6:00 PM
Wednesday, March 2, 2022 5:00 PM-6:00 PM
There is a reservation fee of $50.00 due at the time of registration and will cover this series.
We look forward to you joining us!
If you have any questions about the event, please contact scheduling@theladipogroup.com