Mutlu at Eddie's Attic in Decatur, GA!
About this Event
Mutlu
Mutlu is a soulful, singer-songwriter. A Philadelphia native and first-generation American of Turkish descent, Mutlu has already built a substantial fan base in his hometown, while winning widespread praise for his prior releases.
He's collaborated and toured extensively as a support act with legendary duo Daryl Hall & John Oates and holds the distinction of having made the most guest appearances on Daryl Hall's acclaimed, award-winning TV/Internet show "Live From Daryl's House". He's also gained considerable attention for his work with noted singer-songwriter Amos Lee, with whom he's toured extensively as a support act and backup vocalist. He was the support act for the North American leg of Joe Jackson's acclaimed "Rain" tour and has shared stages with the likes of Adele, Katy Perry, John Hiatt, Leon Russell, the Blind Boys of Alabama, Todd Rundgren, Shuggie Otis, & many more.
Born Mutlu Onaral, he grew up steeped in Philadelphia's deep R&B traditions, eagerly absorbing the fundamentals of old-school soul music and incorporating it into his own musical persona. His local success led to a recording deal with Manhattan/EMI Records, which released his acclaimed 2008 debut album Livin' It, produced by the late, great T-Bone Wolk, and featuring guest appearances by Daryl Hall, Amos Lee, G. Love and Raheem DeVaughn. His latest release is the Hypnotize EP which he co-produced with songwriter/producer Darius Amendolia.
Julia Bhatt
Born in Boston, MA but living practically the whole of her young life in Miami, FL, Julia was raised on a stimulating and expansive musical diet – her first musical memory is of being overwhelmed to tears at a Shakira concert in 2006 when she was a wee 4 years old. She grew up listening to everything from classic rock, American songbook standards and bossa nova beats. She and her sister accompanied their mom to numerous concerts, including The Beach Boys, America, the Dave Matthews Band, No Doubt, Sting, James Taylor, and the Rolling Stones, among many others. It was this variety of rhythms and melodies that helped shape the wide-ranging music she creates.
Already a buzzing artist in the indie/alt-pop underground, Julia has been getting praise from such indie tomes as Earmilk who says she "is quickly finding herself in the conversation of alt- pop's surging artists, a genre that continues to dominate playlists. Bhatt's edge is in her rhythmic tracks, which are dance-inducing, borrowing for sure from the dance-crazed culture of her hometown of Miami—a wonderful tinge." SKOPE Magazine points out her "slinky lounge-esque r&b groove that makes Julia's sultry, flowy vocals shine bright, leading into a sense of urgency." These are just two voices in a sea of adoring media fans. Less than a year releasing music publically, Julia has already been turning heads.
Infused with the broad array of influences from the music with which she grew up, Julia has an ear for unique sound and style. With a powerful voice reminiscent of Amy Winehouse and Macy Gray, Julia writes engaging, fun hooks with great beats, juxtaposed with honest storytelling that reflects observations about teenage life in the melting pot of Miami, as well as reflections on her on-going struggles with
depression. Her rich, soulful, playful voice delivers new energy and impact to classics that she covers.
Her bossa nova-infused debut single, "Tall," caught many by surprise, including Elevator Magazine who quipped, "over warped, over the top production, her vocals are commanding, forcing the production to obey her." Her lustrous single "Marco" was praised by The New Nine who said Julia "has this sweet vulnerability that we can't get enough of, but the song radiates strength." Of her powerful "heart-thumping single" "I'm Cool", VibeMyLife goes as far as calling her a "prodigy" who "showcases her natural talent for delivering earnest songwriting through inescapably catchy melodies."
Since 2016, Julia has performed locally in Miami including her very first job - a weekly gig at a popular restaurant in the Coconut Grove neighborhood, where she played straight through for three hours at a time. She collaborated with friends to perform in a number of combinations at her high school's Rock For Relief concerts in 2016 and 2017. She has played on Miami Beach's Lincoln Road stage of the Miami edition of the annual global Make Music events in June in 2018 and 2019, and at one of Miami's newest, hippest venues, The Citadel, in July 2019, and has played (and has many more upcoming) gigs for SoFar Sounds in New York and Philadelphia.
Absorbing all this musical knowledge into herself and bursting with creativity to write and record more new music to build upon her exciting fresh batch of songs dropping starting in September 2019, Julia is ready to debut her material onto an unsuspecting world. But she herself doesn't know what to expect either. "I don't really know when my voice is at its best because I have a pretty self-deprecating view of myself, but obviously I'm working on that," she says shyly, exposing her first bit of teenage uncertainty. "I mean, hell, I wouldn't be right here if I didn't believe in my music."
She's pretty confident you will believe in it too.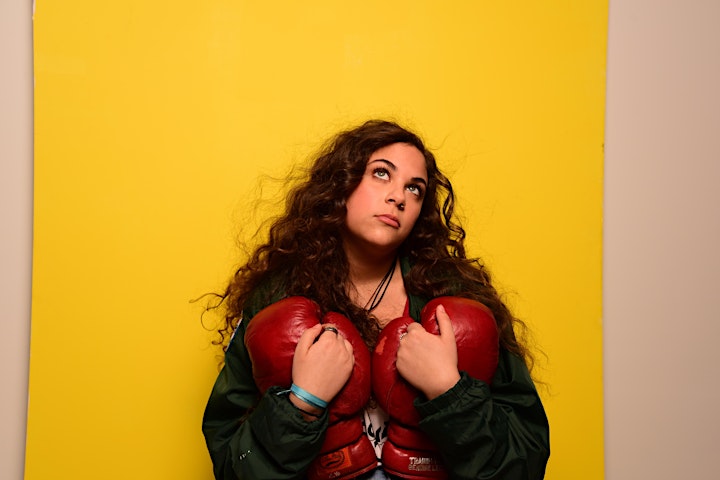 Performers
Date and Time
Location
Refund Policy