Museum Accessibility: Creating Inclusive Cultural Experiences
Description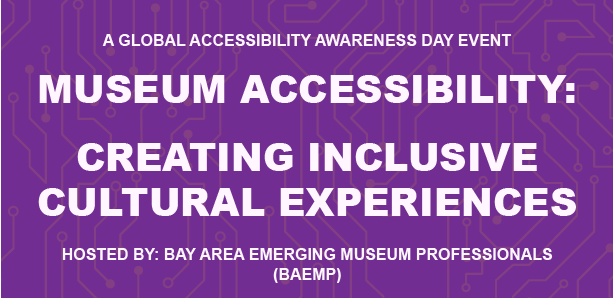 Museums are designed as cultural and community resources, but are these institutions really available for ALL guests? Are museums accessible?
In partnership with the Global Accessibility Symposium, the Bay Area Emerging Museum Professionals (BAEMP) will be hosting a panel discussion on the accessibility of museums on Friday, May 17. The discussion will begin with an overview at the current state of accessibility of museums. What challenges do museums present to visitors that make them MORE INCLUSIVE?
Though barriers exist, museum professionals in collaboration with the disability community are working to make museums more accessible - both architecturally and programmatically. Anirudh Koul, Head of AI & Research at Aira, Seeing AI founder, TEDx Speaker, Author of 'Practical Deep Learning for Cloud & Mobile', will share how Aira is changing lives of those who are blind, or have low vision. By using the service people are being able to explore new places, like museums, and retail, in a way that they have not been able to before. The discussion will be moderated by Caroline, Evans, Board Member of BAEMP.
Aira, and similar tools, are changing the landscape now, but how will accessibility morph or evolve in the future? The panel will explore the future of what accessible museums for all is really like.
Join us at the Computer History Museum on Friday, May 17 for this important discussion on the future of museums.
Agenda:
5:30 PM - 6:30 PM: Doors open, Registration and Networking
6:30 PM - 7:30 PM: Panel Discussion
7:30 PM - 8:00 PM: Networking Wrap-up
---
Bay Area Emerging Museum Professionals (BAEMP) facilitates social and professional opportunities for individuals from museums, zoos, aquariums, parks, historical organizations, nature centers, libraries, nonprofits, universities and companies. We foster meaningful connections within and across backgrounds, disciplines, and institutions.