A networking mixer and panel discussion on launching a sustainable creative business and growing as a creative entrepreneur.
About this event
Sunday August 29th, 2021 - 3-6pm
If your network is your net-worth, are you ready to NETWORK and mingle with like minded creatives?
Do you have a creative business or are you looking to start one and want to hear from a panel of creative entrepreneurial women about their journey to building their business?
Do you want be a part of a platform focused on supporting entrepreneurial women of diverse backgrounds and one that helps you cultivate your muse, through networking, events, and online resources?
Then, Muse and Mortar is hosting, Muses & Mimosas, a networking mixer and panel discussion on Sunday, August 1st at the chic studio, The Texas Studio, in Dallas, Texas. There will be bottomless mimosas and small bites on deck.
You will have the opportunity to network with other female creatives, hear from our panel of business owners, and leave with a workbook, swag, new headshot, and opportunity to win various door prizes. This networking event is perfect for creative business owners, bloggers, Youtubers, influencers, photographers, videographers, and all content creators looking to meet with other women in their field and walk away with nuggts to level up their creative business.
Our Panelist include:
Onikeh Brown-Wilson - Founder of Muse and Mortar and Founder/Creative Director of Satin Pavement
Stephanie Williams - Photographer / Owner of SJR and Co. Photography and Owner of The Space on West Main
Keiyana Roberts - Cake Artist / Owner of The Sweet Canvas Co.
Renee Leone - Founder of Ava Jade Esthetics
The networking mixer and panel will take place at The Texas Studio in Dallas, Texas, a gorgeous natual light studio just south of Downtown Dallas. If you haven't seen or heard of The TX Studio, check out their website, it wont disappoint. This networking mixer and panel discuss is for you if you are looking to cultivate your muse, gather with like minded creatives, ask questions and learn from the journey of our panelist. Come out and experience a Muse and Mortar event.
LET'S GET SOCIAL!
JOIN THE "AMBITIOUS WOMEN CREATIVE ENTREPRENEURS" TRIBE
Date and Time
Sun, August 29th, 2021, 3-6 pm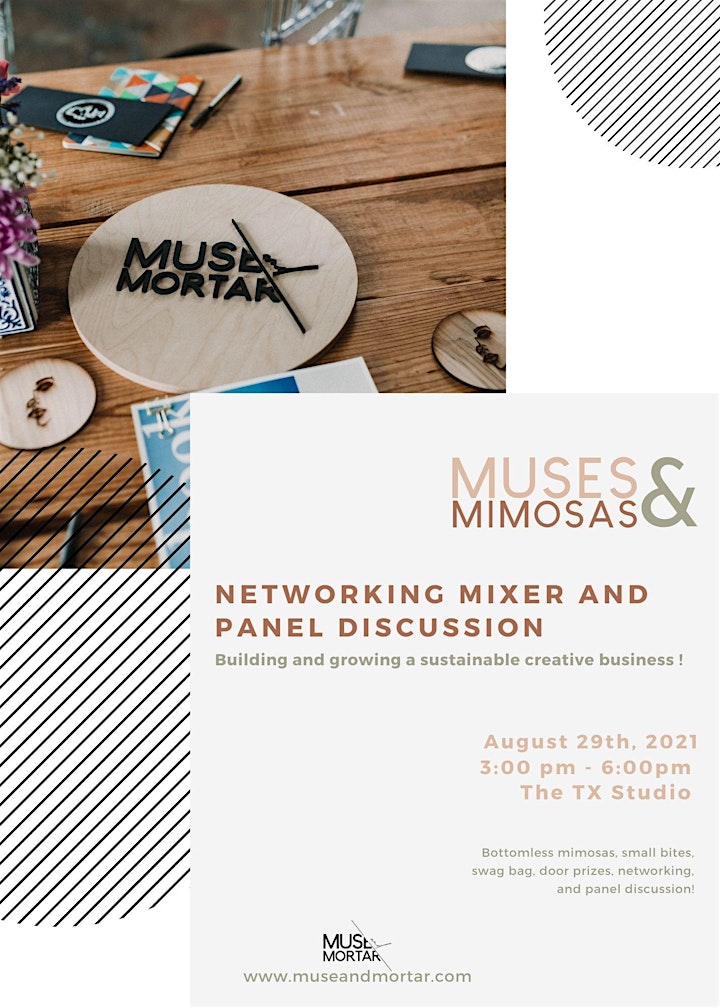 Organizer of Muses & Mimosas | Networking Mixer and Panel Discussion
Muse and Mortar is a platform dedicated to diversity in female creative entrepreneurship. We exist to enable women of color to propel their creativity and careers through culture and collaboration over competition. Through meet ups, online education, tools, our musing workshops, and annual musing conference we look to grow a community of like minded boss women looking to level up and hone the skills to grow the brand of their dreams.