The objective of the meetup is to provide a platform to network and learn from industry experts and thought leaders to excel in technology.
About this event
Anypoint Runtime Fabric (RTF) enables enterprises to streamline the deployment, management, and scaling of Mule Runtimes by removing the complexity associated with containerization technologies. Furthermore, Anypoint RTF runs as a service on Amazon EKS, which provides many advantages including lower infrastructure costs, greater control, flexibility of deployment, and reduced overhead.
Join our Tech Meetup on Oct 29, 2021, to learn Anypoint RTF, its architecture, components, features, hosting options, and a demo of RTF installation & verification on Amazon Elastic Kubernetes Services (EKS).
Agenda:
Session 1: Overview – Run Time Fabric (RTF) on Amazon EKS
What is Anypoint RTF?
Anypoint RTF architecture and components
Anypoint RTF hosting options and key features
Feature comparisons with other MuleSoft hosting options
Session 2: Designing and Implementing Anypoint Runtime Fabric on Amazon EKS
Workload assessment & designing infrastructure
Designing messaging driven integrations with RTF and choice of technology stack
Challenges & learnings in RTF installation and implementation
CI/CD approach on Anypoint RTF
Session 3: RTF installation & Verification on Amazon EKS
Session 4: Q&A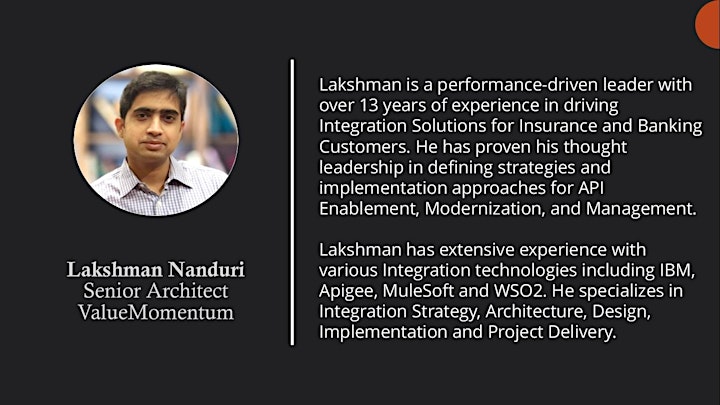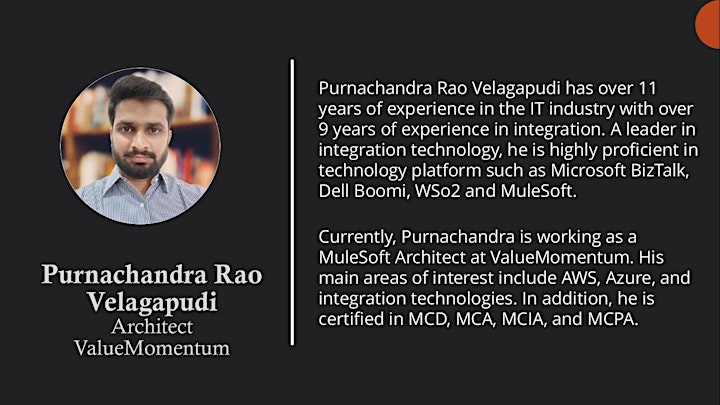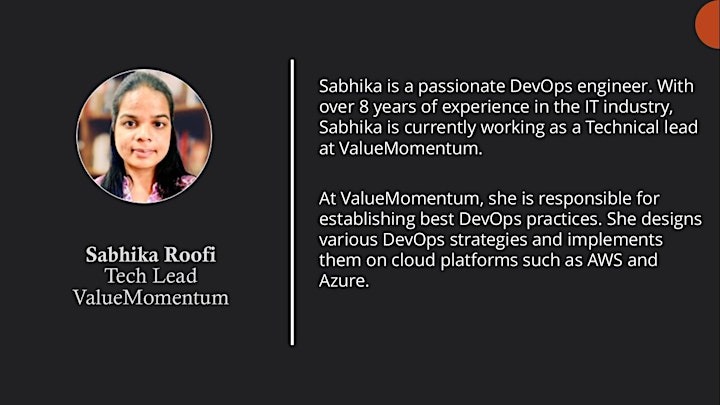 Organizer of MuleSoft Anypoint Runtime Fabric Implementation on Amazon EKS
ValueMomentum provides software and services to insurance, health care and financial services firms. Customers choose ValueMomentum due to the company's track record of delivering value and driving the momentum of customers' business initiatives. ValueMomentum accomplishes this by applying a time-tested formula of combining strong technology expertise with deep industry experience. For more information, visit https://www.valuemomentum.com.