Sales Have Ended
Registrations are closed
Seats are limited to 3 pax per organisations/Institution. Kindly note that any registration via personal email will not be entertained.
Sales Have Ended
Registrations are closed
Seats are limited to 3 pax per organisations/Institution. Kindly note that any registration via personal email will not be entertained.
Description
The Malaysian Technical Standards Forum Bhd (MTSFB) is a company limited by guarantee which was incorporated on 8 June 2004 and being designated as the Technical Standards Forum (TSF) by the Malaysian Communications and Multimedia Commission (MCMC) on 27 October 2004, under the Communications and Multimedia Act (CMA 1998), Part V, Chapter 9 – Voluntary Industry Codes, Section 94 Industry Forum and Part VII, Chapter 3 – Technical Standards, Section 184 Technical Standards Forum. MTSFB was established to enshrine the national policy and objective of self-regulation with the essence embraced in CMA 1998 by initiating and facilitating the development of technical documents related to interoperability, safety and operation for Network Facility, Network Service or Network Application Providers. We have produced 48 Technical Codes, 26 of them were successfully registered as Technical Codes, 4 Guidelines, 2 Mandatory Standards and another 4 has been registered as Malaysia Standards.
In conjunction with the achievement, the MTSFB and MCMC are organising the "MTSFB Sharing Session – Awareness programme on MTSFB Technical Codes" for the year 2015 and 2016. This sharing session is to conduct briefing sessions for each of the identified technical codes that will incorporate with Question & Answer session (Q&A) and related implementation to the participants, stakeholders and any relevant parties. Since it will gather all the participants from various fields and industries, we believe this sharing session may promote and explain the requirements that have been documented related to telecommunications and multimedia sector. It has been expected that industry would adopt the existing way of implementation. Some of these implementations would not interoperate with others and this will hinder the deployment of the telecommunication's system. Industries can overcome this issue by using some guidelines or standard documents that are already available and documents that would be created. This would ease the industries in deploying of any activities furthers. It will feature presentations from the expert of the document which is from the industry representatives.
MTSFB have successfully conducted the event for the Central region on 12 Sept 2017 in MCMC Former HQ. We have received participant from Governance, Governance Agency, Industry, Academia, M&E Consultant, Vendor, Manufacturer, Association, and Others. There are 91 participants attended to this program. The event well went and received positive feedback from the participant.
---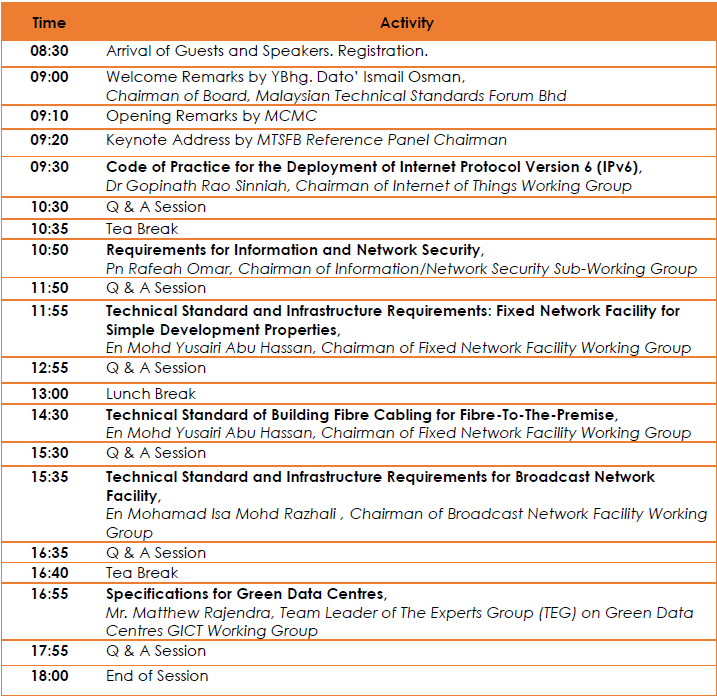 ---
Speakers Profile:
Speaker 1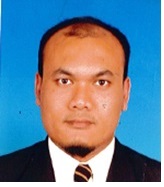 Name of Presenter: En. Mohd Yusairi Abu Hassan, Chairman of MTSFB Fixed Network Facility Working Group
Topic: 1. Technical Standard and Infrastructure Requirements: Fixed Network Infrastructure for Simple
Development Properties - MCMC MTSFB TC G006:2016
2. Technical Standards of In-Building Fibre Cabling for Fibre-to-the-Premise (First Revision) -
MCMC MTSFB TC G007:2016 First Revision
Biography: En. Mohd Yusairi is an Asst. General Manager, Network Development Division at Telekom Malaysia. He obtained his Master in Engineering, Computer Science from the University of Electro-Communication Tokyo. En Mohd Yusairi has 15 Years working experience with TM covering product, strategy, design, and planning of Access Network. He also expert in FTTH Outside Plan deployment, PON, DSL and Civil Work.
Document Development under FNF Working Group:

Technical Standard and Infrastructure Requirements for Fixed Network Infrastructure – 2005

Technical Standard of In-Building Fibre Cabling for Fiber-To-The-Premise – 2009

Technical Standard of In-Building Fibre Cabling for Fiber-To-The-Premise – 2016 (Revision)

Technical Standard and Infrastructure Requirements for Fixed Network Infrastructure – For Simple Development Properties – 2016
Speaker 2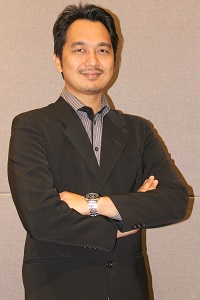 Name of Presenter: En. Mohamad Isa Razhali , Chairman of MTSFB Broadcast Network Facilities Working Group
Topic: Technical Standard and Infrastructure Requirements for Broadcast Network Facility - MCMC MTSFB TC G008:2016 First Revision
Biography: En Mohamad Isa Razhali graduated in 2002 from Universiti Teknologi Malaysia. He started his career with Sirim back in 2004 doing testing and certification for Communication and Multimedia products. He also involved in the development of several standards and technical code for Malaysian and Communication and Multimedia Commission for Malaysian environment. He has continued his involvement with standards development at the national level throughout his career with Maxis, YTL Communication and to date, Astro. Currently, in charge for Technical Regulatory with Astro, En Isa has been appointed as the Chairman of Broadcast Network Facility Working Group for Malaysian Technical Standards Forum Berhad since 2015 and has to lead the industry to the publication of TECHNICAL STANDARD AND INFRASTRUCTURE REQUIREMENTS FOR BROADCAST NETWORK FACILITY in 2016.
Speaker 3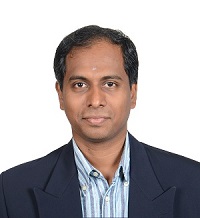 Name of Presenter: Dr. Gopinath Rao Sinniah, Chairman of Internet of Things Working Group
Topic: Code of Practice for the Deployment of Internet Protocol Version 6 (IPv6) - MCMC MTSFB TC G005:2016
Biography: Dr. Gopinath Rao Sinniah is the CTO and Co-Founder of Favoriot Sdn Bhd, a start-up focusing on IoT Platform and Solutions. He has many years of experience in various IT industries, with the focus on Research and Development. An expert in IPv6 and Internet of Things and a Leader in standardization forums, locally and internationally. He is currently the Chairman of Internet of Things (IoT) Working Group under Malaysian Technical Standards Forum Berhad (MTSFB) and the Deputy Chairman of SIRIM TC/G/16 (Internet of Things). His main role in the IoT WG is to promote IoT, create and adopt IoT standards that can be used in Malaysia. He has also authored several conference and journal papers, patents in the field of networking and computer science. Due to his numerous contributions, he was awarded the innovator award at his previous organisation. He was also awarded as the most active working group Chairman at MTSFB. He has conducted trainings in IPv6, networking, and future technologies, presented at various events, conferences and international meetings.
Speaker 4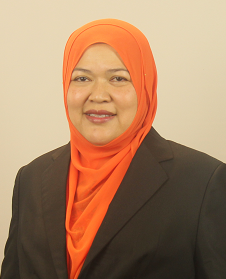 Name of Presenter: Pn. Rafeah Omar, Chairman of MTSFB Information / Network Security Sub-Working Group
Topic: Requirements for Information and Network Security - MCMC MTSFB TC G009:2016
Biography: Joined Telekom Malaysia Berhad (TM) in 1996 and held various positions in Telekom Multimedia, Information Technology and Network Technology and Network Architecture and Technology before joining Group Information Security in 2017, and in charge of Information security governance, compliance, and risk of network, product/services security and support system in TM.
With 21 years of ICT experience and 15 years in Information Security, she actively participates in supporting the industry as a Member of ITU-T SG 17 Security; Chairman, Sub-working group Information & Security Working Group, MTSFB (INS) and Member of SIRIM TC/G/5 Information Security. Her team successfully led the ISO 27001 certification project since 2004, in the various division in TM and be the first in the industry to gain ISO/IEC27001:2013 certification. She is currently involved in the journey towards PCIDSS certification in TM.
Speaker 5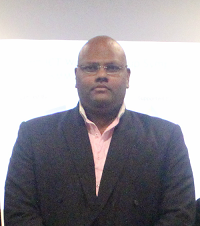 Name of Presenter: Mr. Matthew Rajendra, Team Leader of The Experts Group (TEG) on Green Data Centres, GICT WG
Topic: Specifications for Green Data Centre - MCMC MTSFB TC G004:2015
Biography: Matthew Rajendra is a multiple awards winning technology innovator utilising moonshot thinking with the aim of redefining conventional linear industries through in-house developed exponential technologies. He is actively working on green technology, IoT and blockchain technologies currently.
Having been in the high-tech industry for the past 22 years and starting his first business at 19, he is the only Malaysian to have received the world's most prestigious IT award from the United Nations. In May 2016, the UN/ITU awarded him for the best E-Environment technology during the World Summit on Information Society in Geneva by the Secretary General for his invention, the Eco2 (later rebranded to Submersify) data center cooling technology. In October 2016 he won the coveted Chairman's Award at the Global ICT Excellence Awards by WITSA in Brasilia, highly regarded as the Olympics of the IT industry. He also bagged two awards at the MSC Malaysia APICTA Awards in September 2015 for sustainability and start-up. He represented Malaysia and won the International APICTA Awards for Best of Sustainability and Environmental Technology in Colombo in November 2015.
Having survived a plane crash in 2004, Matthew vowed to take on the world's biggest challenges by developing game changing technologies through moonshot thinking for global impact. His focus is exponential technologies which are capable of dramatically changing the landscape of linear industries. He works with and mentors inspired youth and underserved communities around the world innovating disruptive solutions.
Moving forward Matthew firmly believes that the world's biggest problems are the world's biggest business opportunities. Climate change, financial access, food and water security, energy security and healthcare are core issues being tackled by him and his team through a hands-on approach to helping new companies grow from an idea to prototype to marketable product.
---
We believe the knowledge and insights gained from the seminar would benefit the participants to gain exposure and awareness on the standardization activities and networking opportunity with the telecommunication industry, regulator, government and general public.
Kindly note that any registration via personal email will not be entertained.
Your attendance is very important and greatly appreciated.
For any inquiries, kindly contact Puan Nur Shahidah Senin via email to shahida@mtsfb.org.my or tel: 03-8320 0283.