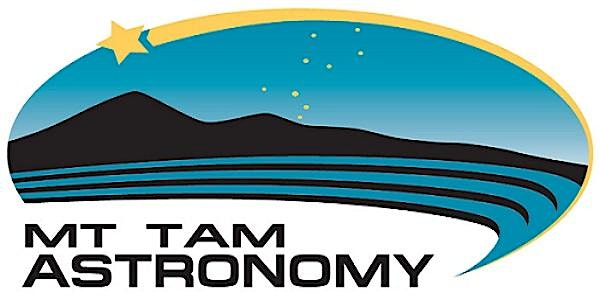 Mt Tam Astronomy Program - Parking Pass
When and where
Location
Rock Spring Parking Area Mt Tam State Park Mill Valley, CA
Description
2018 MT TAM ASTRONOMY PROGRAMS Our 30th year on the Mountain
Presented by Mt Tamalpais State Park, Friends of Mt Tam, Wonderfest, and the San Francisco Amateur Astronomers
Apr 21, 8:00pm — A Universe of Universes? Alex Filippenko, Professor of Astronomy, UC Berkeley

Many scientists now think that there might be more than a single universe. Our universe may be just one example in a far larger "multiverse," but an unusually complex one that is conducive to the existence of life. Come learn about the relevant lines of reasoning and their profound implications.

May 19, 8:00pm — Is That Deep Glow in the Night Sky Real?
Laura Peticolas, Assoc Director of Education & Outreach, Sonoma State University
The Northern Lights can appear as a deep red glow here in California. In Alaska, it more often appears as a bright green band, glowing across the night sky. Come learn more about these dynamic lights, their connection to the activity on the Sun, and how photographers are helping us better understand the difference ways these lights are manifested.

Jun 16, 8:00pm — MISSION: MARS
Pascal Lee, Planetary Scientist, Mars & SETI Institutes
We are making progress globally — from the Arctic to Antarctica, from basement labs to the International Space Station — to achieve the first human voyage to Mars. Come explore the what, why, how, when, and who of our first journey to the Red Planet.
Jul 14, 8:00pm — Search for a Second Genesis of Life: Motive, Means, and Opportunity
Dr. Alfonso Davila, Research Astronomer, NASA Ames Research Center
In this talk Dr. Avila will present the concept of a second genesis and how to search for it. With the recent discovery of habitable environments beyond Earth, including the subsurface oceans of icy moons in the outer Solar System, the existence of a second genesis of life appears now both possible and realistic.
Jul 28, 7:30pm — Sci-Fi MOVIE NIGHT- APOLLO 13
1995 award winning film dramatizes the aborted 1970 Apollo 13 lunar mission. Screening followed by expose of "fake" science in the film by Jeffrey Silverman and Kishore Hari from Science VS Cinema.

Aug 18, 8:00pm — The Modern Origins Story
Eliot Quataert, Professor of Astronomy, UC Berkeley
Our story begins in the remarkably simple early universe, devoid of the complexity around us today. Come learn how the universe has evolved to its current state from simple beginnings: how gravity reigns supreme and builds up the planets, stars, and galaxies required for biological evolution to proceed.

Sep 15, 7:30pm — Searching for Aliens, Finding Ourselves
Jill Tarter, Research Chair, SETI Institute
Are we alone? Humans have been asking this question throughout history. Since the middle of the 20th century, we have had tools that permit us to explore this question scientifically. As we look up and look out, we are forced to see ourselves from a cosmic perspective. This perspective is fundamental to finding a way to sustain life on Earth for the long future.

Oct 13, 7:00pm — Gravitational Waves and the Glow of Cosmic Gold
Daniel Kasen, Assoc. Professor of Astronomy, UC Berkeley
In October 2017, Earthlings detected gravitational waves — ripples in the fabric of spacetime — from the violent merger of two ultra-dense neutron stars. The signals showed that collision debris self-assembled into heavy elements, such as gold and platinum, providing an explanation for the cosmic origin of these special materials.
FAQs
What can I bring into the event?
Extra Layers! Temperatures Drop after Sunset.
Restrooms at Rock Spring and at the Mt Theater.
How can I contact the organizer with any questions?
FMTanswers@gmail.com
Do I have to bring my printed ticket to the event?
YES! You need a Astronomy Parking Pass to park at Rock Spring after the park closes. PRINT THIS PASS (Ticket) and DISPLAY on your Vehicle Dash Board.
The Pantoll Gate will close at Sunset. No access to Rock Spring without pre-printed Astronomy Program Parking Pass after State Park closing. Please Arrive before the Park Closes.
Is my registration fee or ticket transferrable?
No Charge for the Program or Parking Pass.
Is it ok if the name on my ticket or registration doesn't match the person who attends?
One Parking Pass per Vehicle.