Mt. Rainier Photo Workshop -- Session 2

Wednesday, August 24, 2016 at 5:00 PM

-

Sunday, August 28, 2016 at 6:00 AM (PDT)
Event Details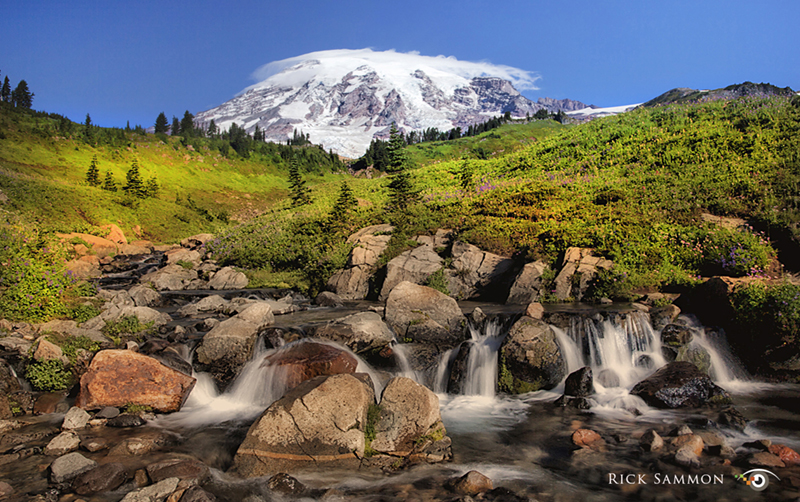 Mt. Rainier Landscape Photography Workshop
August 24 - 28, 2016
Mt. Rainier, WA
Description of Workshop: 
Join Rick for a workshop dedicated to landscape photography in a national park known for its picturesque vistas and dramatic viewpoints. This workshop will focus on the technical skills and artistic vision needed to capture successful landscape images. We'll follow the best light at sunrise and sunset and work on wide angle, panoramas and reflection shots. In addition, Rick will cover how to use HDR and neutral density filters to improve your landscape images. 
Basically, this is a "you snooze you lose" photo workshop. We'll be in the park before sunrise and be out after sunset - to capture the best light of day. Sure! You can take a nap before or after our processing sessions, which are an important learning experience on the workshop.

We'll shoot in many of the park's most iconic locations. We've timed the workshop for August, a great time of year to capture Mt. Rainier when it is framed by forrest, reflected in water and surrounded by wild flower meadows. 
Here is a link to some of Rick's favotite Mt. Rainier images: http://ricksammon.com/blog2/2015/4/12/august-2016-mt-rainier-landscape-photogrpahy-workshop-planned

In addition to shooting sessions, there will be guided group processing sessions. Rick will share his use of Lightroom and Photoshop and how to expand your creativity by using plug ins. Participants will share their images at a group slide show at the end of the workshop.

This is an excellent workshop for photographers looking to improve their landscape photographs and who also want to add stunning new images to their personal collection.
For this workshop, participants are responsbile for their own transportation, accommodations, meals and park fees. Mt. Rainier is about a 2 hour drive from Seattle, WA. We will provide photographic instruction and guidance, select shooting locations and arrange meeting times. 
Note about physical fitness: This workshop involves hiking, some of it on uphill trails, while carrying photo gear and tripods. Participants must be in good physical condition to fully participate in this workshop. 
Workshop Schedule:
Wed. Aug. 24     Arrival day; welcome dinner 6PM.
Thurs. Aug 25    Sunrise shoot; reflections; processing session; sunset shoot.
Fri. Aug 26        Sunrise shoot; panos/waterfalls; processing session; sunset shoot.
Sat. Aug 27       Sunrise shoot; wildflowers; processing session; group slide show.
Sun. Aug. 28     Depature day.
Payment Schedule: 
The workshop fee is $800 per person and covers field instruction and guided post processing sessions. Group size is limited to 10 participants. 
A $500 non-refundable deposit is due to reserve your space. The balance of $300 is due on May 24, 2016. Sorry, no refunds after May 24, but workshop fees can be applied to another workshop. 
A follow-up memo with workshop details, meeting locations, group hotel, recommended gear list and liability release will be sent to registered participants. 
When & Where
Mt. Rainier National Park in Washington State
Mt. Rainier, WA


Wednesday, August 24, 2016 at 5:00 PM

-

Sunday, August 28, 2016 at 6:00 AM (PDT)
Add to my calendar