Refund policy
Contact the organizer to request a refund.
Eventbrite's fee is nonrefundable.
Join us for an arousing day of crafting as we explore the exotic arts of silicone casting.
About this event
Come to our door with only the dream of a dick you desire and go home with a unique piece of art you can enjoy that very night.
In this exclusive four-hour hands-on workshop, locally renowned phallic artist Ms. Polyjuiced will lead you through the complete process of crafting your very own homemade artisanal dildo. You'll be taught how to sculpt a prototype, how to cast a silicone mould, coloring and mixing the liquid rubber, and how to add personal touches like glitter or other inserts. Under Ms. Polyjuiced's careful guidance, you'll be creating an utterly unique toy that will last for generations to come.
The workshop will be hosted in Ms. Polyjuiced's underground Brooklyn crafting parlour - address details revealed upon ticket purchase. Light fare including sandwiches and snacks will be provided, along with a selection of teas, soda, and other beverages.
Prospective pupils are encouraged to come prepared with a design concept for the dick they desire to create. A drawing or photo is advised, although many samples will also be on hand for reference and inspiration. All necessary materials will be provided, including vibrating motors for those who prefer their dick accompanied by mild buzz.
For those interested in more true-to-life sculpture, Ms. Polyjuiced is happy to guide students through the art of life body casting. This is an especially tricky process, as live dicks are notoriously difficult to work with, but the results can be very rewarding. If you are interested in bringing your own live dick model, please contact Ms. Polyjuiced in advance to discuss necessary arrangements.
The art of dicksmithery is a complex and tricky one, but with proper guidance and determination, it should be well within the grasp of anyone willing to put in the effort. Disappointment is always a risk when exploring new things, and we cannot guarantee that every pupil will go home with the finished product they hoped to create. However, everyone will certainly leave us will a solid grounding in the multifaceted art of silicone sculpting, and will have enjoyed a lovely Sunday afternoon making art with other like-minded deviants along the way.
Students who have purchased a ticket and attended one workshop but find they still need more time to complete their projects at the end of the afternoon are welcome to come back and attend another class at a later date at no additional charge.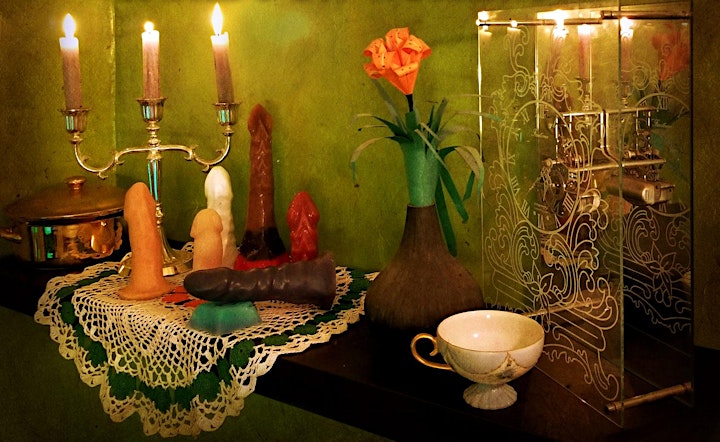 ✨Space: Ms. Polyjuiced's underground Brooklyn crafting parlour. Details provided upon ticket purchase.
🕰Time: Doors will be open from 1-2pm. Please be prompt, as it will be hard to get caught up if you arrive late.
👗Dress: Wear clothing you don't mind working in. An apron or smock may be advisable, as casting materials are messy. Gloves will be provided.
💞Consent Policy: Nothing should ever happen to you at one of our events that you do not clearly and explicitly consent to. Violators of this policy will be firmly ejected from any event we host.
♿Accessibility Notice: Unfortunately, the venue is not wheelchair accessible. Guests will need to be able to climb a single flight of stairs (30 steps) to reach the space, and the building does not have an elevator. If you have mobility concerns that we can help you address, please contact us in advance and we'll do what we can to accommodate your needs. We apologize that we are not able to better accommodate all interested people at this event, but we're striving to do better in the future.