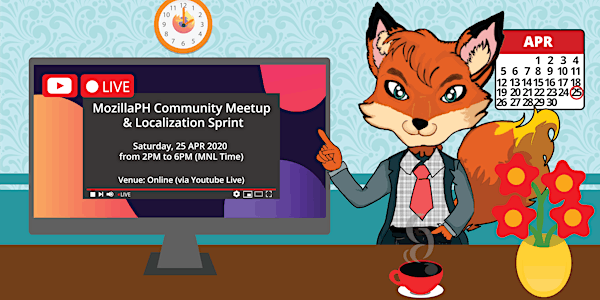 MozillaPH Monthly Meetup (APR 2020) & Localization Sprint (ONLINE)
Description
In support of the government's call to "Stay at Home" and "Work from Home", the Mozilla Philippines Community (MozillaPH) will be hosting this month's meetup for Pinoy Mozillians online.
For the very first time, we are having a MozillaPH Online Tambayan session this coming Saturday, 25 April 2020 from 2PM to 6PM (MNL time) via YouTube Live.
The leadership of MozillaPH will give updates about the organization, our projects, and ways to contribute to the open-source community. The online meetup will also be a venue for a Localization Sprint.

Agenda for his Meetup:
Updates from the Mozilla All Hands Berlin (January 2020)
Updates from the MozillaPH Localization (L10n) Team
Introduction to Mozilla Common Voice project
Lightning Talks from meetup participants
Localization Sprint (participate to Mozilla Localization efforts at the comfort of your own homes, during your free time)
If you are interested in giving a 10-minute lightning talk about any Mozilla product/technology, best practices in Open Source/Open Web, contributing experiences to Mozilla, or Rust Programming Language, kindly accomplish this online form: http://bit.ly/mozillaph-lightningtalk

NOTES:
Please RSVP here in Eventbrite to receive updates about this event.

Please prepare your own favorite drink to enjoy during the online meetup.
Please STAY AT HOME.