Location
Hyatt at Olive 8
1635 8th Avenue
Seattle, WA 98101
United States
Description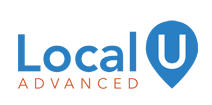 LocalU Advanced Workshop - Monday, February 27, 2017
Join Local U for a full day of tactical workshops focused on the how-tos of local search marketing on Monday, February 27, 2016 at Hyatt at Olive 8 in Seattle. At most conferences, questions pertaining to a specific business, website, or agency issue aren't addressed. But at LocalU Advanced workshops, answering those types of questions is exactly what we'll focus on - helping you with your specific questions and problems.

We'll get you up to speed on all the best practices related to local search using a real local business and show you methods and tools used to find weak spots in your competition and marketing sweet spots for you. We'll discuss agency management issues and solutions and brainstorm link opportunities with attendees. There'll be workshops devoted to helping you to better track and report on local search and how to manage your business listings. As always, a representative from Google My Business will be there to answer your questions and assist in resolving any problems you may have. There will also be plenty of time for Q&A.

MozCon Local Conference - Tuesday, February 28, 2017
Join us to deep dive into local marketing and SEO with industry experts and brands at MozCon Local. Informative for national and regional brands, agency marketers, and business owners, you'll learn next-level tips and tricks for building citations, creating content, getting reviews, and optimizing SEO and local ranking factors as you attend talks, participate in live Q&A, and mix with fellow in-house and agency marketers, and consultants. See you in Seattle!
You won't find any stuffy networking events here. Connect with your amazing community of industry leaders, chat with the speakers and Moz staff, and pick up some cool swag.
---
Agenda | Day One
Local U Workshops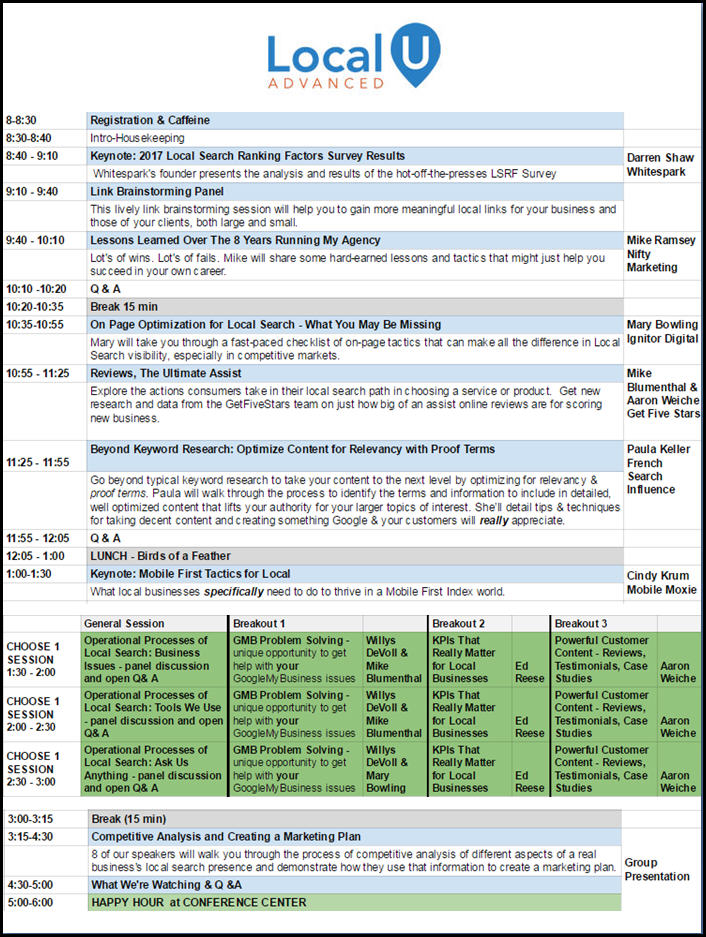 Agenda - Day Two
MozCon Local Conference
Time
Title
Speaker
8:00 - 9:00
Registration and Breakfast
9:00 - 9:45
Future Proofing Your Local Strategy: A Panel with Google, Bing, and Yelp
Willys DeVoll, Google; Christi Olson, Bing; Nate Evans, Yelp
9:45 - 10:15
Are Words the New Links?
Mike Blumenthal, Get Five Stars
10:15 - 10:45
The New Local Search Ecosystems & Citation Sources That Matter in 2017
Darren Shaw, Whitespark
10:45 - 11:00
Break
11:00 - 11:15
Analytics Quick-Fire: Integrating Google Data for Local
Michael Wiegand, Portent
11:15 - 11:30
Analytics Quick-Fire: Implementing and Measuring the Local SEO Funnel
Anita Bhati, STAT
11:30 - 12:00
Optimizing for Location-Based Search
Ashley Berman Hale, Mobile Moxie
12:00 - 1:00
Networking Lunch
1:00 - 1:30
Local Linkbuilding through PR and Outreach
Rhea Drysdale, Outspoken Media
1:30 - 2:00
Crafting a Local SEO Strategy
Greg Gifford, DealerOn
2:00 - 2:30
Think Locally, Act Globally: Local Strategy for Enterprise-Level Brands
Heather Physioc, VML
2:30 - 2:45
Break
2:45 - 3:15
The Nitty Gritty of Getting Reviews
Kate Morris, Craftsy
3:15 - 3:45
The Driving Data of Local Search
George Freitag, Moz Local
3:45 - 4:15
Scaling Local with Google My Business
Willys DeVoll, Google
4:15 - 4:45
MozCon Local 2017 Keynote
Rand Fishkin, Moz
6:00 - 10:00
MozCon Local Afterparty!
---
PURCHASE YOUR TICKET NOW!

LocalU Advanced Workshop + MozCon Local Conference
Monday & Tuesday, February 27-28
$1,048 for Moz Subscriber & Local U Forum Members
$1,498 for General Admission
MozCon Local Conference
Tuesday, February 28, 2017
$599 for Moz Subscribers & Local U Forum Members
$899 for General Admission
---
Hotel Group Block
Hyatt at Olive 8
1635 8th Avenue
Seattle, WA 98101
Phone: (1)(206) 695-1234
Rate: $199.00/night (includes high speed internet access)
Cut-off date: Monday, February 6, 2017
Reservation link: Hyatt Olive 8
---
Some of our great speakers (more coming!)
Anita Bhatti of STAT Search Analytics
Anita is the Director of Marketing at STAT where she leads a team of super talented folks obsessed with bringing valuable SERP insights to SEO experts. Prior to STAT, she took on the marketing challenges of a local yoga startup and a global SaaS company.
Ashley Berman Hale of MobileMoxie
Ashley has been doing technical SEO for over 12 years and has a knack for figuring out what holds sites (large & small) back. She's a longtime Google Webmaster Top Contributor and started one of the most successful SEO meetups in the country.
Christi Olson of Microsoft
Christi is a Search Evangelist for Bing at Microsoft .For over a decade Christi has been a student and practitioner of search (SEM/SEO) working for Expedia, Microsoft, Harry and David, and Point It. She's an Idaho Vandal alumnus and in 2016 became a Mom!
Darren Shaw of Whitespark
Darren Shaw is the president and founder of Whitespark, a company that builds software and provides services to help businesses with local search. He's widely regarded in the local SEO community as an innovator, one whose years of experience working with massive local data sets have given him uncommon insights into the inner workings of the world of citation-building and local search marketing. Darren has been working on the web for over 16 years and loves everything about local SEO.
George Freitag of Moz
George is the Local Search Evangelist and SEO Strategist for Moz Local where he helps brands, practitioners, and business owners alike get the most out of local search. Prior to Moz, George was the head of SEO at Portent, a digital marketing agency in Seattle.
Kate Morris of Craftsy
Kate Morris is the Director of SEO at Craftsy and an Associate for Moz. She has been in search for 14 years with a soft spot for branding and user experience.
Heather Physioc of VML
Heather Physioc is Assoc. Director of Organic Search at global digital ad agency VML, performing search engine optimization services for multinational brands like Electrolux/Frigidaire, Colgate-Palmolive, Hill's Pet Nutrition, Bridgestone, Wendy's and Bayer Animal Health. She has worked in digital marketing for 10 years. Physioc earned her Bachelor's of Journalism in Strategic Communication (Advertising) from the University of Missouri, and is currently pursuing an Executive Master's of Business Administration from Rockhurst University. She has spoken at AACS, WordCamp, KCSEMA, SEMPO Cities, PRSA Mid-Missouri and Omaha, TEDxKCWomen and more.
Mike Blumenthal of GetFiveStars
Mike grew up sweeping floors in his family retail business at age 7 and saw the challenges of local marketing up close from an early age. Before co-founding GetFiveStars.com and LocalU.org he had been doing what we now know as Local SEO since 2005 and writing at his blog Understanding Google Local since 2006. He loves researching and understanding the issues that confront bricks and mortar storefronts and helping owners, agencies, and franchises tackle the challenges of the ever changing local marketing world.
Nate Evans of Yelp
Nate is the Sr. Mgr of BizDev at Yelp & focused on adv. partnerships. Nate joined Yelp in 2008 and previously held leadership roles in local and enterprise sales. Prior to Yelp, he worked at Allison & Partners PR. Nate holds a B.A. in Comm. from UC Berkeley.
Rand Fishkin of Moz
Rand Fishkin uses the ludacrous title, Wizard of Moz. He's the founder and former CEO of Moz, co-author of a pair of books on SEO, and co-founder of Inbound.org
Willys DeVoll of Google
Willys Devoll is a content strategist for Google My Business and a member of the AdWords Content Strategy and Development team. He has also worked as a technical writer and content developer on Google for Work. In the past, DeVoll worked for Major League Baseball Advanced Media in communications, and at the Center for Spatial and Textual Analysis, where he contributed to research in the Literary Lab.
---
REFUND AND TRANSFER POLICY
Early Bird tickets are the largest discount we offer on MozCon Local 2017.

Early Bird ticket deals cannot be combined with any other MozCon Local discount codes.

Full refunds on full-priced Subscriber and General Admission tickets will be given if tickets are cancelled by Friday, January 3, 2017.

Ticket transfers will be accepted through Friday, February 17, 2017